The Most Popular Casino Table Games

Despite the growing popularity of online casinos, many people still take the trip out to enjoy their favorite games. In land-based casinos, slot machines and video poker still reign supreme, with 61 percent of visitors preferring a seat at a machine rather than a table. Perhaps it's the ease and simplicity of the gameplay.
Slots may be the most popular casino game, but they do not necessarily offer the best odds. Generally, table games offer much better value, and though it may take a little while to learn how to play, the gameplay can be more rewarding.
How to Know Which Games Are Most Popular
It's difficult to measure which casino
table games
are most popular on a global scale. We would have to study every casino and combine the results. Still, we can gain an accurate picture by examining established trends and research.
The chart below shows a static snapshot of the popularity of casino games in the U.S. industry, taken in 2012 by VP Communications and Peter D. Hart. The chart also shows the dominance of slot machines and demonstrates the popularity of blackjack compared to other table games.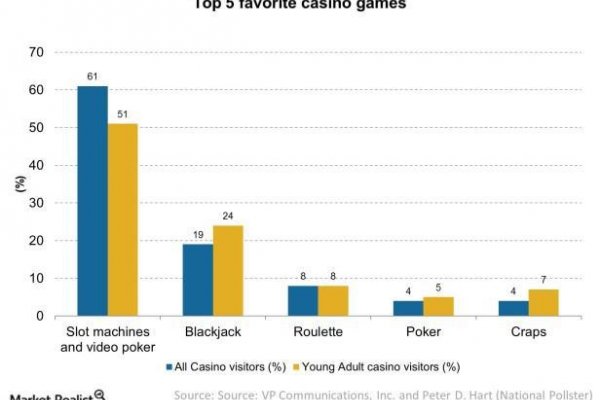 Source: MarketRealist.com, Slots and video poker are the casino's most popular games while blackjack is by far the most popular table game.
Caption: Slots and video poker are the casino's most popular games while blackjack is by far the most popular table game.
I will also consider
more recent research
by the Centre For Gaming Research, UNLV. This research presents a picture of the evolution of casino table games on the Las Vegas Strip, from 1985 to present day.
Blackjack still holds the title for being player's number-one choice (and this is true according to just about any research on the subject), but times are changing fast, and players are moving toward games that you might not expect!
The Five Most Popular Casino Games
Without further ado, here are the five most popular casino games:
5. Craps
- The fifth most popular casino table game is craps. It's little wonder new players shy away, as the tables often look intimidating, but the game itself involves simple bets on dice rolls. The shooter bets and holds the full attention of the table until they either win or lose and pass the dice. Around 4 percent of players tend to take to the craps table, and many of these are young adults - maybe they can handle the pressure! Still, don't rule craps out. It offers the second-best odds for any casino game at nearly 50/50 and the house takes only a small edge.
4. Poker
- Poker is the game of all card games and requires more than a little bit of skill to win consistently. Luck may win you the odd hand, but sit down at a table of sharks and expect your stack to be eaten for breakfast! Texas Hold 'Em is the most popular variation and is played by around 4 percent of casino visitors. Its popularity boomed in the last decade due to the online rush, but it remains the fourth most popular table game at land-based casinos.
The odds of poker depend on how well you can play against your opponents. This is the only table game played against the other players and not the house. The house takes a "rake" instead of holding an edge.
3. Roulette
- Roulette is one of the most famous and popular casino table games and a sturdy backbone for both online and land-based casinos. Players place bets on numbers, groups, red or black. The single green "0" on the roulette wheel gives the house a small edge of 2.6 percent, but an American wheel also has a "00," doubling the house edge to 5.2 percent. Bets on single numbers are paid back at 36-1 when the true odds are 37-1. Around 8 percent of visitors play roulette, though many more players
play online roulette
.
2. Baccarat
- It was a close call for second place between the popularity of baccarat and roulette. The chart presented above doesn't include this simple card betting game, but research from the Las Vegas Strip indicates that baccarat is one of the fastest growing casino table games, both in terms of its popularity and the revenue that it generates.
To put its growth into perspective, baccarat's popularity has quadrupled over the last decade - the game now attracts 12.18 percent of players - and astonishingly, generates the most revenue out of any table game on the Strip, bringing in 39.7 percent of the takings. This increase may be due to baccarat becoming more accessible on online and in mobile casinos.
1. Blackjack
- The most popular casino table game, by far, is blackjack. The object of the game is to beat the dealer's hand without going bust by scoring over 21. Players are dealt two cards and can choose to "hit" to get another on their turn, as well as double their bet or split their cards. Blackjack offers the ideal combination of active involvement and luck, and this is apparent in its popularity. Blackjack can be played by anyone, but making the right play can get the house edge right down to a tiny 1 percent, giving you the best odds out of any table game.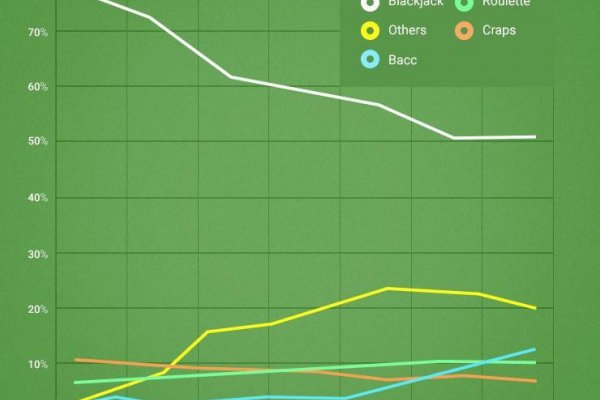 Source: Casino.org, Though blackjack is still the most popular game on the Vegas Strip, its popularity has declined throughout the last decade as games like Baccarat increasingly gain floor space.
However, the popularity of blackjack is on the decline. Back in 1987, it accounted for 75.88 percent of all units on the Vegas Strip, as well as being responsible for 47.94 percent of the profits. Now, those numbers have dropped to 50.86 percent of games and 28.66% of the profits. Blackjack is still the most popular, by far, but is now giving way to the rise of baccarat and other games.
Analysis of Casino Game Popularity
Though slots and video poker machines may still make up the largest percentage of the play in casinos,
table games offer better odds
, and with a little knowledge of the game and the confidence to approach the tables, they are a lot of fun, too!
Although blackjack is still the most popular table game, both on the Vegas Strip and in the USA in general, baccarat is gaining traction and may be one to watch (or play!) in the coming years. Roulette has maintained its position throughout the years, attracting around 8-10 percent of casino visitors as well as amassing large online followings. Games like poker and craps are often less available in land-based casinos but are still regularly enjoyed.
It's worth noting that blackjack has the best odds for a table game, but less popular games like craps also offer great odds compared to other games. All the games mentioned here are also available at online casinos. Whichever game is your favorite, please play responsibly.
---
more in Reviews
Fresh out of Australia, Meet Ellington!!
I just sat down with Jake Bosci and Michael Beatson when put together they make up Ellington. These two guys come to us straight from Australia. Ellington has a fan following already, but would like to cross over to the U.S. Can they do it? Check them out for yourself and then you decide.
Simpson Review
The Simpsons movie is finally arriving in theatres near you. We waited almost two decades for this?
The Music Healer
His music heals. Serious. Carlo Ricafort, a pop/R&B/club singer popularly known as J-RICZ, was crowned 2007 "Most Promising Male Singer of the Year".
Airies Like Aries
It is a song full of fury with control, written using computer software by Walt Rebeiro. I like the title Airies because it reminds me of the horoscope "Aries", brimming with fire an...