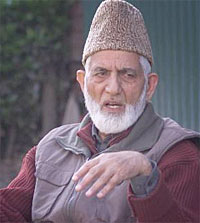 Sareer Khalid
Jammu, Mar 2: Separatist leadership in Indian Administered Kashmir
(IAK) has strongly reacted and condemned the statement, of Pakistan
People's Party (PPP) co-chairman Asif Ali Zardari ,about Kashmir.
Terming the statement "childish Politicking" the (separatist) leaders
strongly rejected it in one voice.
Zardari said on Saturday that His Government would maintain good
relations with India keeping the core Kashmir issue aside which, he
said, would be left for the future generations to resolve in an
"atmosphere of trust".
Replying to a question in a television show Zardari further said "We
can be patient(about the resolution of Kashmir Issue) till everybody
grows up further."
Tallest Separatist leader in IAK, chairman of All Parties Hurriyat
Conference (APHC) Syed Ali Shah Geelani has strongly condemned the
Zardari's statement.
"We condemn it strongly" Geelani said while talking to the cheers.com
over phone from Indian Capital New Delhi. He said that (the) statement
is a "U Turn" from long standing Kashmir policy of Pakistan and
amounts to, what Syed Geelani Call, undermining the big sacrifices
Pakistan has made for the "Kashmir cause". "This is a u turn,Zardari
should know that Pakistan fought three wars for Kashmir and has lost
one of its major parts(Bangladesh)for this issue only". Syed Geelani
said and added that "come what may we will continue our struggle till
the liberation of our land from Indian Occupation, such (as of
Zardari's) statements will not deter us instead will lead Zardari to
the rejection by the people of Pakistan".
The spokesman of another faction of APHC professor Gani while
condemning the (Zardari's)statement said that any delay in the
resolution of Kashmir would prove to be detrimental not only for India
and Pakistan but for whole South Asia."Kashmir is a threat to the
South Asian Region and will continue to be so until resolved as both
India and Pakistan are nuclear powers". He said that "Zardari and all
should keep this thing in mind that Kashmiris have made a lot of
sacrifices for the resolution of (Kashmir)issue and will never allow
any body to play with these sacrifices" .Militant turned politician
Yasin Malik has a same word for Zardari."Nobody will be allowed to
undermine the sacrifices of Kashmiri people". Malik said sharply
reacting to PPP co chairman's "U turn" on Kashmir policy. He said that
"Though we are not against any friendship between India and Pakistan
but for us the resolution of Kashmir(issue)is above all".
Nazir Ahmad Ronga the president of prestigious body of Kashmiri
Lawyers, High Court Bar Association, while reacting to PPP co
chairman's policy said that "This is his(Zardari's)childish
politicking". Mr.Ronaga further said that "Zardari should know that
three wars fought against India by his country were not for any reason
other than Kashmir".
Sareer Khalid
,
The Cheers News
TAGS:
Politics