Crypto king John McAfee to run for president in 2020

The McAfee anti-virus creator John McAfee announced earlier this month that he will run for President of the United States in 2020. Although, truth be told, this isn't the first time. He also run for president in 2016 as a Libertarian, but he lost the party ticket to former New Mexico governor and current pothead Gary Johnson.
Now he has said that he will run one way or another, as a Libertarian candidate or if needed, he will create his own party. He tweeted that "In spite of past refusals, I have decided to again run for POTUS in 2020. If asked again by the Libertarian party, I will run with them. If not, I will create my own party. I believe this will best serve the crypto community by providing the ultimate campaign platform for us."
John McAfee is a huge fan of crypto market and cryptocurrencies, and has predicted that the price of Bitcoin will go up to one million dollars by 2020. Then again, he also predicted over a month ago that it will be $15k by end of June. Since then he has changed his prediction, no it should be somewhere in the end of July.
Obviously he doesn't really stand a real chance to win the election, but then again, would he really be worse than Trump? Yes, he's using drugs; yes, he's using prostitutes; yes, he'd probably be one of the worst, though refreshing, president. But then again, Trump has done it all as well and more, just compared to McAffee, he's been too scared to admit it all.
---
more in Politics
There is a lie in each of Trump's tweets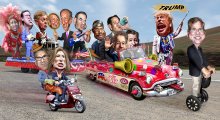 And there's a lie in this title. He doesn't lie in all of his tweets, maybe just half of them. Although sometimes he does lie multiple times in one tweet
Navalny officially barred from running for president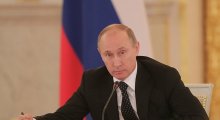 Alexei Navalny has now been formally barred from running for president of Russia by The Central Election Commission due to his conviction in a fraud case. This doesn't come as a surprise to anyone, as such a move was long expected, but it does show the state of Russia today one way or another.
Republican Senators have no idea why the health care repeal bill is good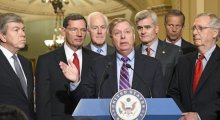 VOX reporter Jeff Stein asked 9 Republican senators some easy questions. For instance what problems would the Graham-Cassidy proposal solve in the health care system? And also, what's the policy explanation for the Graham-Cassidy bill?
Bernie Sanders to introduce universal health care, Medicare for All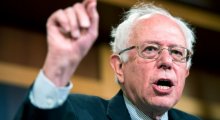 Bernie Sanders will be introducing legislation today that would expand Medicare into a universal health insurance program. While the legislation doesn't stand a chance of actually passing, it does have the backing of at least 15 Democratic senators.
The Justice Department confirms Trump lied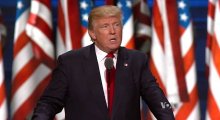 The Justice Department says nobody cared enough about Trump to bug Trump Tower during the 2016 presidential election.