GILLARD KNEW ABOUT FAILED HOME INSULATION SCHEME. RESULT? FOUR DEAD AND 200 HOUSES DESTROYED BY FIRE
This article belongs to And That's the Way It Is column.
One aspect of the
Australian
Government in which coup-leader
Julia Gillard
played a major role as Deputy
Prime Minister
has been very conveniently swept aside by Gillard and her off-siders during the current
Australian
election campaign has been the totally failed home insulation scheme through which four people subsequently died, a number of
Australian
were injured and through which over 200
Australian
homes were destroyed by fire.
"
Gillard and others within the Labor Government were warned by various sources more than once of the consequences of the failed scheme and did nothing.
It now turns out that Gillard more than knew that there were major problems with the scheme well before they became public in fact, it now appears that Gillard knew some months prior to a number of fires and deaths occurring in relation to scheme. In other words, Gillard and others within the Labor Government were warned by various sources more than once of the consequences of the failed scheme and did nothing.
Fire caused by faulty insulation
What does that say? It says that Gillard and other Labor Government Ministers have failed to take responsibility for the insulation scheme farce as to further their own political ends a scenario that has since been proven to be correct when Gillard and other Labor power-brokers unceremoniously removed
Prime Minister
Rudd from office as to further their own political ends. It also says that Gillard has and will again ignore warnings of failures as to further advance her own ambition even if that includes putting at risk people's lives and people's properties.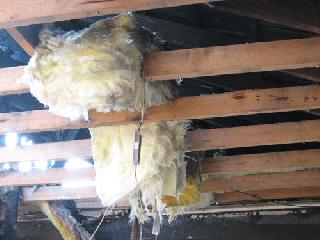 Faulty insulation
In total, and this in relation to Gillard's farcical "Who me?" approach,
Australians
may rightfully approach the
Australian
elections
with a considerable amount if distrust in relation to coup-leader Gillard.
Well might Gillard be moving forward, because four deceased Australians, a number of injured and 200 destroyed
Australian
houses won't be going anywhere.
And like it or not.
My name is Henk Luf.
And That's The Way It Is.
---
more in Politics
A GILLARD GOVERNMENT IN AUSTRALIA? THERE IS NO SUCH THING
The Australian elections thus far have been the most monotonous processes ever encountered in Australian politics but there are a couple of aspects of it that perhaps should be brought into view. First of all, Labor's coup-leader, Julia Gillard, keeps on waffling on about a re-elected Gillard Government as if the coup against Prime Minister Kevin Rudd never happened. I would contest that in that instance, a Gillard Government cannot be re-elected as there was never a Gillard Government in the first place.
WILL THE REAL AUSTRALIAN PRIME MINISTER PLEASE STAND UP?
Australian has lots of former Prime Ministers, wannabe Prime Ministers, could-have-been Prime Ministers and indeed should-have-been-Prime Minister but there is only one Australian who says she is the Prime Minister but who is really nothing more than an example of being just another a coup-leader. Coup-leader Julia Gillard is currently promoting the virtues of a Gillard Government when in reality there is no and never was a Gillard Government in the first place.
COUP LEADER JULIA GILLARD MOVING FORWARD IN CIRCLES
After two weeks of electioneering, there are signs of desperation within the Australian Labor Party after the Australian public appears to begin to see through the ALP's cheap and nasty tactics which began by the various factions within the party, and coup leader Gillard in particular, deposing Kevin Rudd as Prime Minister and by doing so in a particularly nasty fashion, so raising serious voter doubts and indeed more than a few 'second thoughts' about electing Gillard and her co-coup plotters as Australia's Government on 21 August.
THE US GOVERNMENT CLEANING ISRAEL'S DIRTY LAUNDRY
It is fascinating to watch how some governments surround themselves in a veil of secrecy, hypocrisy and double standards and, sadly, the US Government appears to be a master of all of those when it comes to matters related to Israel. One can almost be excused for thinking that Israel's Prime Minster, Benjamin Netanyahu, travels to Washington on a regular basis just to tell President Obama how he should conduct himself. One only has to look at Israel's latest adventures, and there are many of those, in order to come to conclusion that Prime Minister Netanyaho has the US in his pocket and that all he has to do is to provide Obama with his instructions.