AUSTRALIAN PRIME MINISTER KEVIN RUDD DEPOSED BY ALP JUNTA. JULIA GILLARD IS NEW PM WITH ALP POWER BROKERS IN CHARGE OF RUNNING THE GOVERNMENT
This article belongs to And That's the Way It Is column.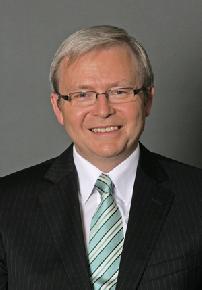 In a particularly grubby manner, Australia's Prime Minster Kevin Rudd, has been deposed as PM by
Australian
Labor Party (ALP) secretaries, ALP power brokers and other ALP 'nobodies' , all in a matter of 24 hours and in a manner that would lead
Australian
voters to question as to who is really in charge of the
Australian
Government.
Rudd's replacement is the former Deputy PM, Julia Gillard, an extremely competent person in her own right. There is very little doubt however that, while Gillard may well hold the PMs position, she will simply be told how to conduct herself in the job by the ALP right-wing junta.
Deposing Rudd was a particular grubby way of removing a
Prime Minister
from office with the various elected and non-elected ALP right-wing entities getting together in an effort to remove Rudd from office with the excuse that the once very popular
Prime Minister
would not be able to win an
Australian
Federal election which is likely to be held within the next few months. They moved on Rudd with lightening speed and replaced him with Gillard who can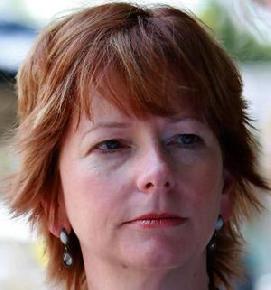 more than justifiably be seen as a puppet Prime Minister. Rudd was deposed in a matter of hours after the ALP junta decided his fate.
All this being the case,
Australians
may now well be extremely angry and disappointed with the fact that an elected
Prime Minister
has been deposed by a bunch of elected, non-elected and non-electable power brokers some of whom have overseen the running of a proven to be corrupt Government in the State of New South Wales.
In Australia, it will now be a case of the
Australian
public saying that "Julia Gillard may well be the
Prime Minister
but would the real
Australian
Prime Minister
please stand up".
The
Australian
electorate may well like to remember those who deposed Rudd and 'scrap-heap' them at the next election but in the end,
Australian
voters will decide who will be the next
Australian
Prime Minister, not the ALP junta.
---
more in Politics
THE US GOVERNMENT CLEANING ISRAEL'S DIRTY LAUNDRY
It is fascinating to watch how some governments surround themselves in a veil of secrecy, hypocrisy and double standards and, sadly, the US Government appears to be a master of all of those when it comes to matters related to Israel. One can almost be excused for thinking that Israel's Prime Minster, Benjamin Netanyahu, travels to Washington on a regular basis just to tell President Obama how he should conduct himself. One only has to look at Israel's latest adventures, and there are many of those, in order to come to conclusion that Prime Minister Netanyaho has the US in his pocket and that all he has to do is to provide Obama with his instructions.
NUCLEAR-ARMED ISRAEL CONFIRMED AS BEING A ROGUE STATE
Once again, Israel has shown that the country has little or no regard for international law, human rights laws and definitions and the nuclear-armed country can now, beyond reasonable doubt, be regarded as a rogue state
Homelessness in the Cities: Economic Crisis Aftermatch
According to UN estimates, more than 100 million people are homeless. Dr. Wally N'Dow, Secretary General of Habitat II said that the majority of Homeless are woman and dependent children. However, in Buenos Aires, the Interparroquial mutual aid service, states, that the new homeless profile has changed since the 1990s. They say that today 80 percent of the homeless are men, and only 20% are women.
The sex scandals in catholic churches
There are far too many news items about priests from the catholic churches indulging in sex activities. This is a bad reputation for the Christiana community.Something needs to be done to quell this completely.