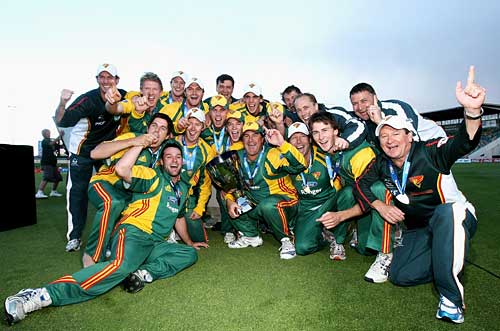 The Tasmanian Tigers have won the Ford Ranger Cup, reaching the target set by the Victorian Bushrangers with five balls and one wicket to spare. It was the third time the Tigers have won the one day trophy, and they had to work hard chasing a rain-reduced total of 131 from 31 overs.
Brett Geeves was awarded man of the match honours for his bowling figures of 3/28.
It was a day dominated by the ball, with 19 wickets falling for 289 runs, as most batsmen struggled to get started.
Tasmania looked in total control chasing 131 at 5/109 until Bryce McGain came into the attack, snaring two wickets in three balls to bring Victoria back into the game.
Brett Geeves and Travis Birt got the Tigers within four runs of victory when Geeves edged behind off the bowling of Dirk Nannes.
Bryce McGain struck again in the next over, removing Brendan Drew to have the Tigers at 9/128, still needing three runs for victory.
Travis Birt, who looked to be the most comfortable of all batsmen during the day, glided the ball down to third man on the first ball of the last over for three runs, and a Tasmanian victory.
Birt finished up with 37 runs off 37 balls with Bryce McGain picking up 3/11 and Clint McKay picking up 3/42.
Tasmanian captain Dan Marsh praised the efforts of his bowlers.
"We bowled magnificently, and fantastic batting at the end got us over the line. They [the bowlers] were outstanding, especially Geeves early," Marsh said.
At the start of the day Victoria won the toss and elected to bat first on what looked to be a superb batting strip. Things soon turned ugly for the away side as they collapsed to be 4/47 after just 11 overs.
David Hussey and Andrew McDonald then revived the Victorians with an 80 run partnership, before McDonald was out caught at third man for 35.
David Hussey eventually fell for 50 when he was caught in the gully off the bowling of Xavier Doherty, and with his wicket went all hope of Victoria posting a big total.
The next three wickets fell for 15 runs as Victoria were dismissed for 158 off 37.3 overs.
Victoria will have another chance of gaining silverware when they play New South Wales in next month's Pura Cup final.
Chris Hartley
,
The Cheers News
TAGS:
Other-sports
Ford Ranger Cup
Cricket