Madness!!
This article belongs to Jae Journal column.
HAPPY ST PATRICKS DAY!
So I was at Little Villa the other day with Rock and I started watching the NCAA Tournament and I have to say, I am hooked!!!
We were drinking beer, watching the Boston College/Texas Tech and Georgetown/Belmont games and I was mesmerized by the quickness and craziness of the games. These kids go for broke. They elbow, steal, and rebound. It is craziness, and I am hooked.
I used to think all the people who filled out their brackets were nuts. I used to think college basketball was just for frat parties getting ready to trash the sororities. I thought the NCAA tournament was a way for bookies to make their keep. I was wrong. It is fun to watch, and the action moves very quickly.
Filling out the brackets is neato too. I picked mine the second day of the tournament and I made my past picks honestly. I am sure Rock would be kind enough to remind me how I said Texas Tech would take down Boston, but he kept saying Boston College is good. I don't know shit about this other than past results and what I watch on ESPN.
All I know is I have found a new tradition for myself and next year, not only am I going to find a way to turn the bracket into some kind of pool, but I will have a Final Four party too, with lots of booze!
Once again, Happy St Patty's day!!!!
JAE
---
more in Opinion
Drought is on the Land
And it came to pass that the multitudes of Australia failed to understand how to save water in the driest inhabited continent in the world. Then the great God (John Howard) decreed that he would save the land. The mighty Murray Darling Basin will in future be controlled from Heaven, er, no, er Canberra
Ozzie Does It Again
Have I mentioned this before? Ozzie Guillen is the man! Brandon McCarthy, the "future of the Sox" made comments about how he didn't feel the Sox Clubhouse welcomed him and Brian Anderson was his only ...
Politics of Global Warming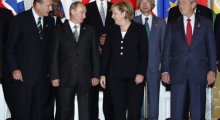 There is great doubt whether our political leaders will ever have the courage to address the difficult decisions to alleviate global warming. Scientists have proved their point. The Earth is heating at an alarming rate and unless we address the problem of greenhouse gases then our globe, as we know it will cease to exist.