Do we really need The Ten Commandments?
This article belongs to Religion theme.
Religion! Ah...there's a word that crashes into a conversation like a Steer on a Segway. Nothing creates more drama, tension, and war than the old 'my imaginary friend is better than your imaginary friend' debate.
So do we need religion? I can't really comment on Islam (because let's face it, nobody can, the western world usually just issues a law suit when somebody gets offended, Muslims launch a Jihad), Judaism, Hinduism or any of the other 200 Million religions that seem to be floating around. So, I'm going to concentrate on the only religion I've had any exposure to (beside my beloved Tottenham Hotspur Football Club), Christianity.
"
Do they really think that with this here commandment, we'd all be out stabbing each other to death?
Christians are basically good people, right? I mean they have to be, they have to live by Gods Ten Commandments - which, lets face it, would cause total outrage if it was released today by some government think tank. I've been thinking about these 10 Commandments, and how they apply to me and my life here in 2008. So in no particular order the obvious one to start with is 'Thou Shalt Not Kill'. Do they really think that with this here commandment, we'd all be out stabbing each other to death? Give us a bit more credit there, God. I mean, we are civilized human beings! Even the Scottish.
"Thou Shalt not steal" is fair enough, but again...do they think that by not pointing this out on an ancient tablet, we'd be looting the shopping malls every weekend? I suppose it'd be one way to beat the queues.
"
Surely watching the NFL with a Beer and some pretzels is as close to a religious experience as you can get?
Let's have a look at a few of the others. Remember the Sabbath and keep it Holy. I've got to ask...Is this open to interpretation? By 'keep it holy' do you mean go to church or can we worship at another alter? Surely watching the NFL with a Beer and some pretzels is as close to a religious experience as you can get?
Thou shalt not make wrongful use of the name of your god. Well that's easy enough; we don't actually know his name. We call him by his job title alone, an honour only bestowed upon Him and possibly Superman.
Thou Shalt not make yourself an Idol. So, then, God...does this mean that you will smite those who have dared to enter Pop Idol (or American Idol as it's more famously called stateside)? What about poor old Billy Idol? Is he going to hell?
Thou Shalt not covet thy neighbours house? Look, God...I live in an industrial city in the north-east of England. Have a look down my street next time you're on your rounds. All the houses look the same!
Now, here's one...Thou shalt not covet thy neighbours wife. So, if God lived next door to a happily married couple, but she was a Hottie of the highest order, is he saying he wouldn't have a sneaky peak over the garden fence while she's out sunbathing? Oh, Come on!
Even if you do have a bit of a crush on your neighbours wife, wooing her would be very difficult. Thou Shalt Not Commit Adultery, remember? Best find a nice, single girl.
"
Thou Shalt worship Brangelina, anyone?
Erm...ok. Thou Shalt not bear false witness against thy neighbour? What is that all about? Don't provide him with an alibi? That makes sense, I mean if he commits a crime and needs an alibi but you cannot provide that because you're a good Christian, him being given hard time in the stoney lonesome would give you an excellent opportunity to console that hot wife of his.
Hmm...thou shalt have no other gods before me? Aww, thats a shame. Time to take down those David Beckham posters.
The last one, Honour Thy Mother and Father. Easy. Mum and Dad, if this article gets published, I'd like to dedicate it to you.
Okay, so I'm a bit of a cynic, and I'm sure they mean well, but maybe, just maybe it's time for God to get these commandments updated to fit a more modern lifestyle?
Thou Shalt worship Brangelina, anyone?
---
more in No Laughing
Mistletoe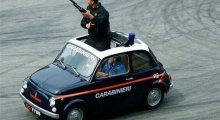 In the front grocery store aisle, looking for Glad bags with an empty 12 gauge shotgun crooked casually over my elbow, I noticed something felt very different. A policeman was staring at me!
TOYOTA - LEMONS MOVING FORWARD
As the court cases mount and the damages bills are likely to venture into the billions, Toyota must getting a bit worried about the overall effect on its long-term prospects worldwide. I am going to add a bit to those worries with the call that all sales of Toyota product be suspended until such time the company can prove that its products are safe to use which, at this point in time, Toyota cannot.
Santa Missing in Eurotunnel
Well might you say. "Poor old Santa". Here is the poor old pensioner trying to save some time by travelling via the Eurotunnel and he gets stuck on a train half-way through the tunnel, prompting a search party for him.
ABUSED BY PRIESTS OR OTHER RELIGIOUS SEX OFFENDERS? HERE ARE SOME GUIDELINES AS TO WHAT ACTION TO TAKE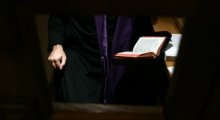 The phenomenon of priests, clerics and other religious sex offenders is, by all accounts, more like an epidemic rather than the occasional occurrence and as to ensure that justice prevails, victims of these parasites must be extremely careful as to not make statements and/or participate in actions that may lead to religious sex offenders getting away with committed crimes.
HIGHWAY ROBBERY. AUTHORS AND WRITERS RIPPED-OFF
It is so sad to see people with obvious talents being ripped-off by crooks, charlatans, dodgy individuals and companies and other forms of low-life who prey on individual lack of legal knowledge and weaknesses in terms of contracts and so-called marketing practices that often amount to nothing more than theft and, in the more extreme cases, fraud.