Experts to arrive at Cherrapunjee to study the fading rainfall
Meteorological records show this year during the monsoons, the hill town, now called Sohra, has received about 700 mm less rainfall till June 30 last. While the normal rainfall in the first 30 days of the monsoon is 2793.9 mm, Cherrapunjee received just 2092.6 mm.
Experts hoped the deficit is expected to be supplemented in the next couple of months of the season.
The average annual rainfall at Cherrapunjee from 1973-2007 (35 years) is 11,952.2 mm. Due to two consecutive years of below average rainfall in 2005 and 2006 the average has been pulled down to under 12,000 mm. 2007 received little more than the average rainfall at 12,646.8 mm.
The total rainfall at Cherrapunjee in 2005 was 9,758.0 mm and in 2006 was 8734.1 mm. In 2001, it was 8971.5 mm.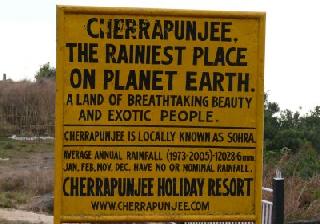 Placard displaying that cherrapunjee is the worlds\' wettest place
NE Sun has learnt that the decreasing rainfall statistics has prompted the authorities to rush experts to the place to study the factors leading to the lessening of the rainfall. A team of experts from the Union Ministry of Forests and Environment is expected to arrive shortly to study the causes leading to study the causes leading to the massive deforestation in the place.
Earlier, the state government had inked an agreement with the Centre for International Agricultural Development Cooperation (CIADC) of the Israeli Agriculture Ministry for technical collaboration in rainwater harvesting in Cherrapunjee.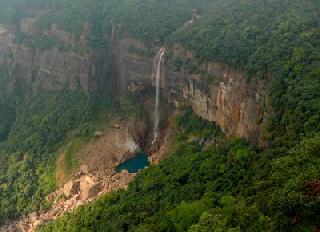 Nohkaliaka fall in Cherrapunjee
The CIADC of the Israeli Agriculture Ministry would provide sustained education on rainwater harvesting and creation of structures for it, besides funding pilot projects for regenerating forest cover in barren land.
Cherrapujee receives about 20000 tourists annually and tourism here depends more on the fame of it being the world's rainiest place as Agra depends on the Taj Mahal for visitors.
---
more in Life
Hell Hole
Thereís an old joke that goes, Chicago has two seasons, winter and construction, which I guess is funny to those who donít actually live here. For the rest of us, itís a none-to-gentle reminder of the circle of life; men fix roads, weather destroys roads, men fix roads; good news for construction workers, bad news for innocent commuters such as myself.
Where There's No Smoke, There's Ire
On January 1st, the state of Illinois began an all out smoking ban in public places. This came to me as a bit of a shock. Oh sure, the state had announced that it was going to institute such a ban, but I never really believed it would come to pass, at least not in the city of Chicago.
A run-away at fourteen
Some small incidents or encounters during your young age life, have a tremendous influence on your behaviour, philosophy of life, decision making etc in your later life. They become your guide stars too.
The price of instant friendship
Call it a good or bad or an undesirable habit. But I canít give up the practice of stopping someone on a public road and talking with him. ďAn instant friendship makerĒ kind of strategy.