Post office to reach to remote village in India to create awareness on human trafficking
A perceived idea is the linkage of Indian Postal Services along with
Impulse NGO network to reach out to the remotes villages in the
region, whereby information will be provided from a community service
centre at the post office.
A meeting to formally launch a programme to create awareness on
human trafficking in collaboration with the Indian post office was held at
Shillong in North East India on Monday. The objective of the initiative is to create a complementary environment among the communities for law enforcement utilizing the Indian Postal Service network, which will enhance inter agency collaboration in combating trafficking in person (TIP).
To achieve its objective to reach out to the remotes village in
the North East, Impulse has trained 516 law enforcement officials from
the rank of superintendent of police to constable level. This on
realization and on understanding that human trafficking is rampant
from the remote villages of the region where people do not have access
to any sort of information, be it on the very notion of human
trafficking or the available ways and measures for their redressal.
The villages in North East are primarily inhabited by the farming
communities, with low literacy rate. These segments of the populace
are hesitant to go to the police station and report any cases of
missing children from their localities or villages. This is one of the
major reasons behind cases of human trafficking not getting reported
and they simply get lost in the process and are forgotten as sheer
result of their fate. The network to be operated in every village in
the region can be harnessed as one of the strongest medium for
disseminating information and service delivery in the cases relating
to trafficking and educating the masses on the issues.
The snail mail hubs trusted by the rural people with this
intervention will be able to create awareness on many issues relating
to trafficking of women and children. In recent times girls from North
East have been lured for jobs by various companies in this process
they were duped, ultimately landing up in brothel and engaging in
commercial sex trades. This can be reduced and checked with awareness.
The day long meeting was organised by Impulse NGO network,
supported by United Nation Office on Drugs and Crime, New Delhi. Dr.
Pushkar Singh, North East Coordinator, UNODC project office, Mamta
Kohli from USAID Delhi, Director Post Service, NE Region, I
Pangernunsang and General Post Master, W Iawphniaw were among others
who participated in the meeting.
---
more in Life
Global Warming - Small Island Nations to Disappear Within Years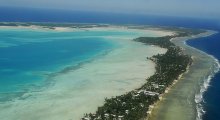 The stark realities of global warming and subsequent rising sea-levels are appearing to begin to have major effects on small Caribbean and Pacific Islands nations, with the latest stark call for assistance coming from the President of the Pacific Islands nation of Kiribati.
Dirty Bird or Resourceful Mortal?
While at the top of the food chain, masters of land and sea, blessed with the gifts of knowledge and reason, humans are also garbage-producing fiends.
THE RAGGING SEASON IS HERE
Isnít it strange that while most school children detest Monday mornings because they have to go to school after a hectic week end, they look forward to the re-opening day after the dog daysí summer vacation?
Where Have all the Cashiers Gone?
People have become quite fanatical with ďsaving timeĒ these days. In a society where the average American juggles a job (or two) along with a family, a hobby and a social life, we yearn for extra minutes, even hours in the day. What would we do with this time once we acquired it? Who knows?
Ipod, You Pod, We All Pod for Ipod
The Ipod is the best thing since sliced bread. In fact, itís way better than sliced bread. Any idiot can pull out a knife and cut off a hunk of rye, but how many people can take an entire music collection and cram it into pocket calculator thatís also a TV? No one, unless you count those magicians without a social life fooling around chips and wires, while the rest of us are out getting drunk.