The River Bugs are here!
There are less than 50 River Bugs in the world, and Extreme Dreams owns 10 of them!
Extreme Dreams and Nae Limits, who is probably Scotland's most forward
thinking outdoor activities provider, have joined forces to bring the
Northern Hemisphere River Bugs!
I recently started working with
Nae Limits, and I was asked to come up with the next "big thing" for
this season. After racking my brain, surfing the net and going through
notes I have made in the past, I came up with River Bugs. I had come
across them whilst traveling in New Zealand, but hadn't had a chance to
have a go, due to weather conditions. With some help from my friends in
New Zealand (thanks guys), I was able to track down the
inventor/designer of the Bugs. After a few phone-calls and e-mails,
John and Kate, (from Nae Limits), gave it the green light. Extreme
Dreams and Nae Limits were now in business!
River Bugs have been described as "a cross between a white water raft and an armchair!" I think that says it all.
The Bugs are the latest extreme sport to come out of New Zealand. They
have been in use there for around five years, and apart from New
Zealand, Scotland is the only other country in the world where the
River Bugs are commercially available.
As most people know, the
Kiwis are not known for standing still when it comes to creating new
extreme sports. They have obviously been white water rafting and
kayaking for some time, but they needed to find something else to do
with all that white water. That is where the River Bugs came into play.
The River Bug is a single-person white water craft. It only weighs
around 7 Kilos and is very easy to maneuver with a little bit of
training. They can travel through white water ranging from grades 1 to
3, run small rapids and can even be used to pull stunts, such as
pirouettes. Some of you may look and say that grades 1 to 3 are not
exactly extreme, but when you are actually sitting in the Bug, with
white water splashing all around you, zipping past rocks, surfing the
waves and going over the occasional drop, you may change your mind!
If you fancy being a "River Bugger," contact Nae Limits and see when you can have a go!
If you want to buy some River Bugs, contact us at www.extremedreams.co.uk Deano
www.extremedreams.co.uk - come see the Blind Man at play!
---
more in Extreme sports
The extreme sport you never knew existed
Gone are the days of straight and low model helicopter flying. In the past few years this hobby has evolved into a popular sport, and is now considered a challenging art.
Jae Journal - The Battles Wages On
Hello everyone and welcome to the journal. I just had a birthday, the Michael Jae Project will be back on in Lake County, and most importantly, the Sox defeated the Cubs during the first of two meetings this season.
The Real Ozzie
Yes, Ozzie, he's the man. Finally an Ozzie that America can fear. Forget about Ozzy Osbourne. The man looked like a special education reject with that damn reality show of his. And the last album, Down to Earth should have been called Flung to Mars, because it sucked big time. You would think putting musicians like Zakk Wylde, Robert Trujillo, and Mike Brodin would make magic, but instead it was kind of like the time Geraldo Rivera opened Al Capone's secret vault, an empty room. But with Ozzie, you can count on one thing for sure. He will always say what is on his mind no matter what. He doesn't give a shit about who gets offended, and I believe that is a great quality in a person. I respect Ozzie. I liked him when he was a player, and love him as a manager. Finally, the White Sox have someone who they can be proud of in the dugout.
The winds of Mother Nature feed our passion to make ever lasting memories
It was about 12:30pm Easter Monday up at Willow Beach, Lake Simcoe, Ontario, Canada. Not much wind, but building to about 15-20km/hr north easterly. It's foggy, so the visibility on the distant shoreline is gone. Nothing to be seen in the distance as the grey ice and patchy surface disappears into the fog. A few runs with my kite and skis offshore to check out the conditions left behind from a season of wind blown refrozen ice. The occasional piece of soft melting ice jutting from the surface was left between the occasional patch of slush/snow. Farther in the distance less and less snow patches yielding to a sold grey ice, now with an ever so thin patch of surface water from the recent warm temperatures.
Bungee jumping: Taking the plunge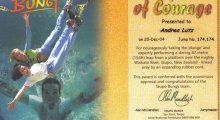 December, 20, anno domini 2004 was the day I finally put into practice a plan I had had for several years already: to do a bungee jump. Being in New Zealand, the paradise for tough adrenaline junkies, I felt that the setting was just right. There was only one problem: I am naturally a terrible chicken. Therefore, I made sure there was no way for me to bottle out again. I told several friends about my plan, and one of those friends even came along with me to perform a jump himself.