Sporting or not
Is there sportsmanship in the world?
Has the competitive edge cut away what once was so compelling about the sports we love to watch?
A part of me once would have said yes and no, however, it is far more complicated than that.
Any sport deals with two different emotional conditions. One is the
desire to win; the other is the desire to compete. At first these two
categories may seem to be the same; howeve,r to compete is not the same
as to win and to win is not the same as to compete.
The
formation of human desires can be traced back to the animals from which
we evolved. They basically come down to a simple desire to be the
alpha, the top dog, the number one, the best of the best. It comes from
the need to do something that sets you apart from the rest.
It
is that desire that drives us all. In any sport, there are those that
are happy to run with the packs and those who wish to lead the herds.
In Formula One, there are those drivers that will try to win at all
costs, regardless if the cost is in terms of equipment or their own
health. In Extreme Sports, there are those that seek the greater
effect, the louder cheer, the louder roar of support from the crowd.
These are the ones that want to win.
These
are also the people who take no prisoners. If the sporting world, be it
either mainstream or extreme, was made up just of these hard-nosed
competitive people, there would be no sport at all. There would be just
painful moments when we loose to them.
Thankfully, for those
of us that are happy to run with the herd, there are others like us
around- people that just like having a good time.
Motor Racing
used to be fun in the 1950s and 1960s. The drivers did not make the
same amounts of money, but there was never the total lack of sporting
gestures that there is today. Back then, it was considered a fringe
activity or a niche sport. Now it is big business.
Looking
around at my fellow extreme sports fans and sportsmen, I am glad that
although there is a willingness to be the best, in most cases, it is
not mutated into an arrogance that has to be emulated by others to
survive. Mainstream sports are loosing that battle.
I am glad
that the U.S. is full of Extreme Sports, as it is one of the last
places on Earth where you can still find a sportsman willing to be
sporting.
---
more in Extreme sports
The extreme sport you never knew existed
Gone are the days of straight and low model helicopter flying. In the past few years this hobby has evolved into a popular sport, and is now considered a challenging art.
Jae Journal - The Battles Wages On
Hello everyone and welcome to the journal. I just had a birthday, the Michael Jae Project will be back on in Lake County, and most importantly, the Sox defeated the Cubs during the first of two meetings this season.
The Real Ozzie
Yes, Ozzie, he's the man. Finally an Ozzie that America can fear. Forget about Ozzy Osbourne. The man looked like a special education reject with that damn reality show of his. And the last album, Down to Earth should have been called Flung to Mars, because it sucked big time. You would think putting musicians like Zakk Wylde, Robert Trujillo, and Mike Brodin would make magic, but instead it was kind of like the time Geraldo Rivera opened Al Capone's secret vault, an empty room. But with Ozzie, you can count on one thing for sure. He will always say what is on his mind no matter what. He doesn't give a shit about who gets offended, and I believe that is a great quality in a person. I respect Ozzie. I liked him when he was a player, and love him as a manager. Finally, the White Sox have someone who they can be proud of in the dugout.
The winds of Mother Nature feed our passion to make ever lasting memories
It was about 12:30pm Easter Monday up at Willow Beach, Lake Simcoe, Ontario, Canada. Not much wind, but building to about 15-20km/hr north easterly. It's foggy, so the visibility on the distant shoreline is gone. Nothing to be seen in the distance as the grey ice and patchy surface disappears into the fog. A few runs with my kite and skis offshore to check out the conditions left behind from a season of wind blown refrozen ice. The occasional piece of soft melting ice jutting from the surface was left between the occasional patch of slush/snow. Farther in the distance less and less snow patches yielding to a sold grey ice, now with an ever so thin patch of surface water from the recent warm temperatures.
Bungee jumping: Taking the plunge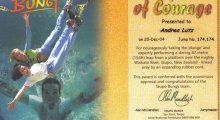 December, 20, anno domini 2004 was the day I finally put into practice a plan I had had for several years already: to do a bungee jump. Being in New Zealand, the paradise for tough adrenaline junkies, I felt that the setting was just right. There was only one problem: I am naturally a terrible chicken. Therefore, I made sure there was no way for me to bottle out again. I told several friends about my plan, and one of those friends even came along with me to perform a jump himself.