Hangin' in the W.C. with roots rock reggae kings, nuffsed
Hey rockin readers and uber-reggae fans! Here is another edition of Hangin in the W.C.
Nuffsed
Friday, March 5, 2004
Chop Suey, Seattle, Washington, W.C.
Seattle is a city known for its mosh-inducing 90s grunge and its arms
crossed, head bopping, overwhelmingly indie label pop and rock.. Yet,
there is a completely different scene going on in Seattle that is much
more flavorful. Folks, Seattle has a thriving reggae scene.
Now, many within the scene will argue whether it's legitimate or
thriving, but local promoters, Reggae Hotline Productions and others
attract big acts such as the Wailers, Israel Vibrations, Pablo Moses,
and Midnight to play in the Emerald City several times a year.
One of the bands booked to open for the crazy reggae superstar
Eek-a-Mouse late Janaury is Seattles own roots rock reggae kings,
NUFFSED. (It is actually spelled in the lower case, nuffsed, but for
visual recognition purposes, we will capitalize the bands name.) This
group of righteous party dudes have created some captivatingly powerful
songs of love, salvation and Rastafari.
The current lineup of
NUFFSED begins with the original members, Daniel Mr. Miller on lead
guitar and vocals, Todd Baum Rips on bass guitar, and Justin Lobster
Barnes on drums.
It all starts with me on guitar, and the drums
and bass to create the music first. Then we come up with the lyrics.
But we all play together so the music belongs to all of us, Daniel
explains when asked about the collective credit the band gets for each
song.
We all write our own lyrics, says Eric Maher, a.k.a.
King Cire, the group's maestro of dancehall chanting or toasting. Eric
whips out fast-paced lyrics with finesse and precision. He confidently
freestyles the rapid words with power of conviction, easily packing
each performance with great energy.
Deiter Segura, a.k.a.
Citizen D, is the third vocal M.C. with a nearly baritone voice that
compliments Dan and Erics higher ranges. Back-up vocalist Marlin Randy
Reed plays congas, bongos, and percussion, and rounding out the reggae
rhythms with loopy organ/keyboards is Leif Thug Dalan. This is a tight
and talented group of musicians.
The members of the group are
from all across the continental U.S. and Hawaii. Manager Nate Gibbs,
Todd, Lobster, and Randy hail from the islands, bringing with them a
playful party kick. These guys live together as the core home unit.
Daniel, a Seattle native, met Lobster and Todd while in college. They
immediately bonded over reggae music at a party. The band spent their
first three years together developing their sound at house parties.
Their new home is the sweeeeeetest band house Ive ever seen sans
celebrity rock star pads. They have a killer view of Seattles Lake
Union and Interstate 5 Bridge. All the rooms are well-decorated and
clean! The domestic touch surprises me because it reveals a deeper
layer of the players. You get a happy and well-functioning family sense
in their environment. It is a beautiful thing, and you can sense these
good vibes in their performances.
Eric, originally from
Vermont, Deiter, from Southern California, and Leif, another Washington
native, all joined the group in 2002 and the current lineup has been
playing strong in the Seattle area for the last year. They played
well-attended shows at the Alki Beach Festival, the Seattle Hempfest,
the Seattle Bob Marley Festival, Northwest Folklife Festival two years
in a row, as well as numerous shows at almost every reputable or skanky
venue you can name in Jet City.
One of the strongest songs on
their forthcoming CD is Impeachment. The songs strongly starts out with
the shrewd lyrics, Impeachment yea, Its time to clean up the nation so,
impeachment now, Haile provide salvation well. Dan states, When we sing
about Haile
[Selassie], we are speaking of the Rastafarian
who is also known as Jah Rastafari. He is the Emperor of Ethiopia.
Haile will provide salvation and help impeach Bush.
Right on,
my brother. The lyrics implore America to take out its trash- or more
precisely, to question the quality of leadership and government who
threaten to eliminate civil liberties and freedom in the U.S - and to
rise up against the increasingly oppressive elements we are seeing
worldwide. This song deserves to be heard at every caucus and polling
booth, on radio waves, television and billboards, because this is the
message we all been waiting for to take back the reins of power from a
madman. Oh, but I transgress, dont I? This band inspires me to believe
that we have the power to change our world.
Combining
political defiance with Rastafarianism is the bands strength. The band
further explains that Haile is God, but not like God in Heaven, oh I am
going to up now, die, and then go to Hell. Or Im going to be good
because then I will go to Heaven. Heaven is on Earth right now.
Rastafari is a physical representation of Jesus Christ, Jah, or
Jehovah. He is crowned King of kings, Lords of lords, conquering lion
of the tribe of Judah, but for our purposes, hes the Living God. He
exists in our hearts and in everything.
The band members are
very passionate about the concepts preached in Rastafarianism. The
conversation gets serious and religiously technical, right down to
biblical references, when they speak about the subject, but the overall
message in their songs is not religion or politics. They speak about
the power within all of us to bring about change, salvation, peace or
happiness. Dan summarizes Rasta is 'bout everything you need. It is
about love, peace, freedom and not accepting any kind of bullshit. It
is tough to live in a city and not get screwed. You have to watch
yourself and make sure not to be in a sad place. Rasta helps with that
because everyday you feel stoked to be alive.
Poignant social
commentary pepper the hip swaying music; you are happy, shaking your
groove thang, and then your ears pick up the wise messages coming from
Daniels emotive
sun-honeyed voice. In the song Pedestrian
Life, the band is Calling all Pedestrians/Instead of talking about you
and then me/The I, the I, the I/cannot deal with no vanity no folly
but/you pass them by on the street/shuffling their feet and they turn
the other cheek/get their paycheck every other week yet their heart is
so weak. Two points are made in that stanza about judgment and
self-reflection:
We need to start looking to ourselves
and to each other for change, hence breaking down barriers of
separation between all of us. Our judgmental and separatist attitudes
destroy us. Our dependency on that separation, effects of modernization
and the rat race in general, leads to defeat, fear, and
self-destruction. This song reflects on the "man eat man" concept many
of us harbor when we fear one another or overzealously covet our measly
possessions rather than share in the bounty. These songs are not
preachy or generically prescribed advice one posits in reggae lyrics.
These are intelligent insights, artfully sung and balanced by clever
hooks and dance-inducing grooves. This band is not just a group of
reggae party boys. This is talent, my friends.
Talented as
NUFFSED is, the band is not signed to a label yet. Though the band has
been around for four years, they are now making their music career
priority #1, now that many of them have finished their coursework at
the University of Washington and have no desire to be just another pawn
in the rat race.
They create, practice, record, mix down, and
produce all their own original music in their home studio. They will
have their CD release party in Seattle on March 5, 2003 at the Chop
Suey.
This band has the drive, talent, and vision to make it
big. It is their dream and, more importantly and encouragingly, an
attainable goal. I asked them about their business expectations and
they know what they want in terms of specifics and proper respect.
Manager Nate points out an important detail of sharing their big sound.
Its hard for us to just think on a small scale. There are eight of us
and we all have day jobs. It is hard to move all of our equipment and
us so we will need good support from a label. We do want to get on the
road and we want tour support, definitely. Lobster correctly states,
Honestly, we have a good sound. We have something going on that is
real. Its good and Im sure it can be huge.
NUFFSED works hard
and understands that they will also need expert studio support and
widespread distribution. The faster and wider we can get our music out,
the better, Eric responds to my question about how far they want to go
in the music industry. When asked if they wanted to sell millions of
records, they confidently joke, Platinum, Triple Platinum, all the
way
to the top! I want a big medallion, encrusted with diamonds! They
wisely point out, While we want all that, we never want to give up
creative control. They all chime in "never," one right after the other.
We spend most of our interview time joking about the big time,
the Seattle music scene, and the possibility that Dan will have to lose
the dreadlocks or dye them blonde for a Jah forgive award show, but
these guys have their stuff together and are prepared for whatever good
fortune may come their way.
They eagerly shared a list of
labels and artists they admire and look forward to working with in the
future. Labels such as Hellcat or Skank out of California, or reggae
aficionados Shenachie, RAS, and Island, all rank high along with VP,
Loha Loha, Ryko, Sick, No Limit and, ironically, Nass label,
Rockafella.
The Roots, Wyclef Jean, Buju Banton, Alpha
Blondie and the Long Beach Dub All Stars are musicians with whom
NUFFSED wants to collaborate or tour nationally and internationally.
The WARPED tour would be sick. I think we go over well with the whole
SoCal sound, Nate shares as we finish our interview. I agree with him,
and encourage all of you to check out their music. Come see what the
fuss is all about and put a little more love into your life. Next week,
I hang with L.A. rockers, Run Run Run. Peace and love, Valeria Valiente
---
more in Entertainment
The rise and rise of Ellen Page
Ellen Page is without question the woman of the moment in Hollywood right now. With a Best Actress Oscar nomination recently stacked up alongside a list of achievements for her turn in 'Juno', including being named the Breakthrough Actress of the Year at the Hollywood Film Festival, she is, to coin a lovingly overused tinseltown term, 'hot' right now. Piping hot.
Between a Rock and a Heart Place
Screw Geoffrey Chaucer. Not for his poetry, quite honestly, I don't think I've ever read any of it, but because apparently he inadvertently created Valentine's Day. I didn't know this until recently. I just assumed the holiday was the byproduct of greeting card company greed and lack of anything better to do in the month of February, but evidently it's been around for quite some time.
Halle Berry burns at the box office
Buried deep within the embers of grief, a spark of friendship ignites in relationship drama 'Things We Lost in the Fire'. However, while this thoughtful, emotional film delivers some strong performances and appealing cinematography, don't expect a blaze of drama and excitement.
Girls Aloud or Girls Alone?
Despite having fame, wealth, beauty and a hugely successful pop career, the members of Girls Aloud seem to be lacking in one department - a happy and healthy love life.
Great American Dumb Ideas: Elder Blues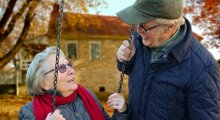 Fads in mental health diagnoses come and go. Something called Existential Neurosis was popular for a while, but seems to have lost some of its gloss in recent years. For a long time now, any high-energy, active child risked being diagnosed—often misdiagnosed—with Attention Deficit Hyperactive Disorder (ADHD).