Who is SLAM?
In the heydays of the likes of Bobby Benson, Sunny Ade, Ebenezer
Obey in Lagos area, Nigerian urban culture had just emanated. After the
civil war urban bands came alive with a touch of soul and rock in urban
centers of the East, yet Fela Anikulapokuti well known with his jazzy
origins and crossover creation, Afro-Beat in Europe and America would
challenge establishment; and when the time had come for younger
generations from the 80s through the 90s, the likes of Kris Okotie
marked another watershed. Who Slam is in the early 21st century may
define the globalization of Nigerias music taste.
Slam
is experimenting! Now in his twenties he marks another era in the
development of the next Nigerian pop music idiom. He goes after his
fancies in the song Ebu Chineke. That is enough to reveal to the keen
music fanatic in Nigeria that as an Igbo man from the South-East Zone,
Slam is merely following the trends of kinsmen in the home video
industry. He relies on lyrics written either in English or native Igbo
language, just like the movie gurus who experiment with neo-modernist
ideas.
They're a synthesis of hip-hop and Nigerian idiosyncrasies rules his
musing character. But unlike Mr. Cool, (from the same zone) who croons
too, Slam is picking song yodels, following very recent if not latest
global styles. One can discern the strong sense of Latino in the track
Booty Dance; and even the body twisting and wiggling by the female cast
of the music video say something. Slam is also experimenting with
themes. After all Ebu Chineke is gospel with a lot of soul, yet Booty
Dance has a strong display of secular sexuality. And Slam is Slam in
both vocal attitude and futuristic feel.
It is this
nonspecific experimentation that has characterized Nigerian pop acts
for sometime now. Groups like Tribesmen and Plantashun Boys too have
been involved. Though they were more into the almost mundane dancehall
reggae feel, spiced with a little of urban ghetto character, like Daddy
Showkey's African dancehall style. This too has a strong national
following for its African cum revolutionary themes. It preaches ideals
of the ghetto, and beats its chest in complete defiance to elitist
arrogance. Ajegunle, a ghetto near Lagos is the origin of this
identity, and some Nigerian football in Europe stars came from there
too.
In the past such developments were borne out of many
definitive factors and eras in Nigerian pop culture history. At the
turn of every socio-political cum economic orientation, a new crop of
pop musicians would emerge with a peculiar fad. This is easily
discernable also in the pre-independence era, when Highlife bands with
strong Ghanaian and West Africa wide links played to military bands
march-beat.
Therefore musicians like Bobby Benson and IK Dairo of Taxi Driver and
Mosorire (I'm Blessed) fames moved from emulating the beat to fusing
native music elements for popular entertainment. Fela Anikulapo Kuti
would follow, influenced by jazz, with his band the Kula Lobitos; and
found a means in Afro Beat to fight military regimes till the early
90s. Femi Kuti picking his father,Felas legacy with a liberal
experimentation became an exemplar for Paul Play IK Dairo (IK Dairos
son) to re-mix Mosorire for an instant hit in the 90s. Therefore one
sees a throw-back to the old while keeping abreast of the now genres;
just to sound modern. Yet if you suspect Slams experiments might mark a
complete departure hold your breath, and let the beat go on.
In
the post civil war Eastern Nigeria of the 70s such ventures lasted a
while. Then a peculiar urban pop style with a strong fusion of rock and
soul genres characterized bands like the Wings, Ofege, Cloud Nine and
the Apostles. Twenty years of cultural experimentation with Sonny
Okosuns Ozzidism, similar to Ghanas Osibisa, African instrumental
cross-rhythmic ensemble with a feel transiting from reggae to strong
rock came to be born in Kris Okoties I Need Someone in 1979. It was an
instant national hit produced by Odion Iruejie and backed by Laolu
Akins and friends of the Blow fame.
Kris Okotie opened and
urban flood gate for Jide Obi and Felix Lebarty doing hits in the 80s.
Music came alive and stronger than before, when Majek Fasheks Send down
the Rain and Prisoner of Conscience simply re-incarnated Bob Marleys
catholic chants laced with congas to have Kpangolo. This again
demonstrated that the Igbos (Jews of Nigeria) were in control of the
firmament. Tabansi Records owned by an Igbo businessman was the culture
factory where these young men either as former producers or new
artistes stepped off the mill. It is a trend that has also
revolutionalized the home video industry in this country.
This means they will always know where the money is from a mile, and
would easily cash in for soprano acts. And it was not as if sex was not
reflected; infact suspicion that Alex ZitosTickle Me! might have caused
Shina Peter to know that if women would throw female scented pants at
the Ghanaian, then sex could sell music not otherwise. So Shina
exported sex via Figure 8, Ijo Shina and Shina Mania to America.
African Americans were agog!
This guitarist simply sought
solace in the cross-rhythms of the South-West zone (Yoruba) talking
drums to send hips and boobs of many voluptuous looking girls gyrating
to the delight of American voyeurism. So through him in the 90s
Nigerians urge for escapist eroticism as refuge from hard times was
accurately reflected. He was an alternative to the lamentations of the
early 80s upward; exemplified by Majek Fashek. Therefore between
lamentations and escapism in sex, Ras Kimono sang Likkle Sugar, while
Charley Boy sang 1990; all about dis-satisfaction with the economy
raked earlier by a corrupt civilian regime of the Second Republic.
But the coming of military President Ibrahim Babangida, which brought
uncontrolled liberalization in all aspects of life, might have
engendered Shinas sexual expositions too. After all he also sang about
the cares and fantasies of women in the song Figure 8. Females were
curious an enthusiastic about their liberator from male chauvinism!!
Meantime
the death of Femis sister Yeni about the same with the father would
also see him venturing into soul synthesized with Afro Beat. It was
most like a deafening silence even as Lagbaja, who through years of
jazz music presentation on Ray Power 100, Nigerias Premier Independent
FM radio, released an urban mix grill. He tried much as he could to
marry urbanized Yoruba idiosyncrasies, with some gimmickry-lacing for
the venturesome Igbos of the South East, in Lagos, Nigerias city of
opportunities.
Everyone was expecting something new, but to
no heed. Seeming so like Nigeria was bereft of originality, Minaj
Broadcast International, a satellite TV station could hardly satisfy
Nigerias yearning for a catch fire song or album. But it tried its best
to draw attention to the hurriedly done sounds, just like Nigerian
movies often made in less than three weeks. So its Afrocentric
professing could at least match South Africas Channel Os global sound
trots. But the season of lack in the national grove continued. May be
only Sound Sultan with his Jagbantis sound and Slams Latino and Soul
expositions gave a hint of what might follow. Not really a style epoch.
Not even near a national grove; but something to go by.
However
it seems so true that Nigerian music must challenge the corrupt
establishment, fight for human rights, cause women empowerment,
continue to feed wounded sexual libidos and may be create some utopia
of a country that will bounce back economically. That is if cultural
institutions would preserve the essence of arts as a communication
tool, record labels take some risks; with foreign labels taking on
Nigerian acts. What Kennis Music by the Kenny and D1 formerly of the
Ray Power Jam crew is doing to Paul IK Dairo, Tony Tetuila and then
Slam prompts the question,
Who is Slam?
Well
reckoning with the times Slam is of the new generation. He is lucky
that computer aided music making simply makes music making so easy. But
Slam is vocal deepwater, running on the surface for now. If he sees
good songwriting as a means to proper career development then the sky
will be his limit. And that might as it has for many Nigerian acts
become a lack and could stifle his career. That is to say that since
the average music fanatic cannot acknowledge him as a good song writer,
or having a good one to supply him, Slams vocal energy might come to a
drawl one day. However he is young and still has time on his hand!
Ride on ... SLAM!
---
more in Entertainment
The rise and rise of Ellen Page
Ellen Page is without question the woman of the moment in Hollywood right now. With a Best Actress Oscar nomination recently stacked up alongside a list of achievements for her turn in 'Juno', including being named the Breakthrough Actress of the Year at the Hollywood Film Festival, she is, to coin a lovingly overused tinseltown term, 'hot' right now. Piping hot.
Between a Rock and a Heart Place
Screw Geoffrey Chaucer. Not for his poetry, quite honestly, I don't think I've ever read any of it, but because apparently he inadvertently created Valentine's Day. I didn't know this until recently. I just assumed the holiday was the byproduct of greeting card company greed and lack of anything better to do in the month of February, but evidently it's been around for quite some time.
Halle Berry burns at the box office
Buried deep within the embers of grief, a spark of friendship ignites in relationship drama 'Things We Lost in the Fire'. However, while this thoughtful, emotional film delivers some strong performances and appealing cinematography, don't expect a blaze of drama and excitement.
Girls Aloud or Girls Alone?
Despite having fame, wealth, beauty and a hugely successful pop career, the members of Girls Aloud seem to be lacking in one department - a happy and healthy love life.
Great American Dumb Ideas: Elder Blues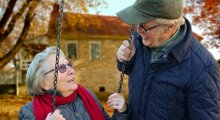 Fads in mental health diagnoses come and go. Something called Existential Neurosis was popular for a while, but seems to have lost some of its gloss in recent years. For a long time now, any high-energy, active child risked being diagnosed—often misdiagnosed—with Attention Deficit Hyperactive Disorder (ADHD).