Do people tend to feed your food to the dog when you're not looking?

In other words, are you a really, I mean really bad when it comes to your kitchen and cooking skills? If you are, don't worry! You are not alone! Fourteen people with similar disability will be going against each other in the fifth season of Worst Cooks in America starting from February 17th.
All the contestants will be competing against each other under the watchful eye of their mentor, either superstar chef Bobby Flay or Anne Burrell, and try to win the grand prize of $25 000.
If you think you are bad in kitchen, maybe after watching the show you won't feel so awful any more. Especially considering that all the fourteen contestants have been chosen to the show based on the recommendations of their friends and family. For example, Benjamin "Benji" Hunter Brown III from Nashville, a thirty-year old bachelor, has tried to cook only twice in his life, both times ending with a disaster. Mike Glazer from Los Angels almost burnt down his mother's house when trying to cook. Casey Pentony from Los Angeles is a germaphobe who is terrified of fish(!), who doesn't make a difference between a cup and a tablespoon. She's a nurse, so she must be capable of learning, but...and then there's Muneerah Warner from Philadelphia who, because of his smoky-kitchen skills, has fire department on speed dial.
Do you still think you're THAT bad? Or did it make you feel just a bit better? Well, if not, see the show, maybe you too can learn something from it.
Disclosure: This post was requested by an advertiser.
---
more in Entertainment
The rise and rise of Ellen Page
Ellen Page is without question the woman of the moment in Hollywood right now. With a Best Actress Oscar nomination recently stacked up alongside a list of achievements for her turn in 'Juno', including being named the Breakthrough Actress of the Year at the Hollywood Film Festival, she is, to coin a lovingly overused tinseltown term, 'hot' right now. Piping hot.
Between a Rock and a Heart Place
Screw Geoffrey Chaucer. Not for his poetry, quite honestly, I don't think I've ever read any of it, but because apparently he inadvertently created Valentine's Day. I didn't know this until recently. I just assumed the holiday was the byproduct of greeting card company greed and lack of anything better to do in the month of February, but evidently it's been around for quite some time.
Halle Berry burns at the box office
Buried deep within the embers of grief, a spark of friendship ignites in relationship drama 'Things We Lost in the Fire'. However, while this thoughtful, emotional film delivers some strong performances and appealing cinematography, don't expect a blaze of drama and excitement.
Girls Aloud or Girls Alone?
Despite having fame, wealth, beauty and a hugely successful pop career, the members of Girls Aloud seem to be lacking in one department - a happy and healthy love life.
Great American Dumb Ideas: Elder Blues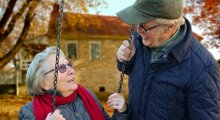 Fads in mental health diagnoses come and go. Something called Existential Neurosis was popular for a while, but seems to have lost some of its gloss in recent years. For a long time now, any high-energy, active child risked being diagnosed—often misdiagnosed—with Attention Deficit Hyperactive Disorder (ADHD).