Judy Gold to take part of Rachael Vs. Guy: Celebrity Cook-Off

Rachael Vs. Guy: Celebrity Cook-Off is a show by Food Network that will be premiering its third season on January 6th, at 9pm ET/PT. Among the eight multi-talented celebrities to take part of the show is Judy Gold, an American stand-up comic, who will be working her way up and trying to win $50 000 for her chosen charity, in Team Rachael.
"I had anxiety for so long. I went to a psychiatrist… "I'm constantly anxious. What do I do?" He told me I had obsessive compulsive disorder. I was shocked. I had to call him, like, nine time to make sure he was certain." -- Judy Gold on Psychiatrists
Whether her stand-up experience will help her in the Rachael Vs. Guy: Celebrity Cook-Off show, only time will tell. The other celebrities taking part of the show are Florence Henderson, Penn Jillette, Chris Kattan, Jake Pavelka, Tiffany, Vanilla Ice and Herschel Walker.
They will all be mentored by the team leaders Rachael Ray and Guy Fieri, who will try to do their best to make their team victorious. Especially as it's kind of a tie-breaker, the third season.
"Season 3 of Rachael vs. Guy means rubber match. Rachael won the first round, and I took the second. This one is for all the pasta in Italy," said Guy Fieri.
See Judy and other celebrities on Food Network on January 6th, 2014.
Disclosure: This post was requested by an advertiser.
---
more in Entertainment
Top 10 songs about car-loving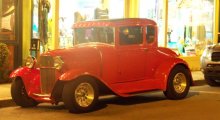 It seems that there are almost as many songs about loving your car as there are about loving another person. So many "passion for the pistons" ditties, that coming up with a universally accepted list of the top 10 car-loving songs just may not be possible. It's also very interesting to note that there is no single style or genre of music that owns car-loving songs. From Rock to Soul and Country to Folk, they all have motoring melodies that stand the test of time. Honorable mentions go first; Mercury Blues, done by both Steve Miller and Alan Jackson. Fun Fun Fun by the Beach Boys. Mustang Sally by Wilson Picket, and Maybellene, by the legendary Chuck Berry are all highly popular, memorable songs that just missed the Top 10 but were still huge hits.
The lineup for Sydney Festival 2014 revealed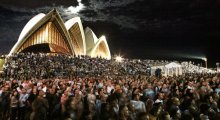 The lineup for Sydney Festival 2014 was recently revealed and among the performances you can expect to see a lot of known names like Chaka Khan, Amanda Palmer, Lee Ronaldo, Mike Patton, Mike Mills. Just to mention a few names you might be familiar with. But this is just a drop in the water as actually the festival goers will be able to enjoy the performances by hundreds of artists of all kinds - musicians, visual artists, film makers, dancers, theatre people.
How to Receive an Awful Present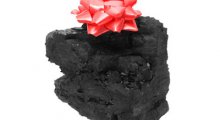 Whether it's a secret Santa or insane grandma, there are times in your life when you'll receive presents that are not only bad, but have no relevance or connection to you. Unfortunately, this happens more than anyone would like, but that doesn't make it any more enjoyable. There's rarely any in which it's okay to tell the person that their present buying skills remind you of great human tragedy and bring you to tears- you would, in fact, be labelled a brute- so there needs to be some official etiquette laid out on how one must act when a beastly gift is bequeathed upon them.
The odds at the bar don't change, or do they?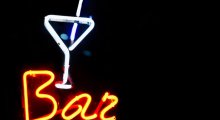 "No man ever steps in the same river twice, for it's not the same river and he's not the same man." - Heraclitus When you're at the bar with a bunch of your buddies, the truth is that the idea behind the quote doesn't necessarily apply. You can keep trying to do the same thing with the same girl over and over again and the result stays the same. The result being a scary look from the girl, the look that says - get away from me, you creep.
I Told Me Not to do It!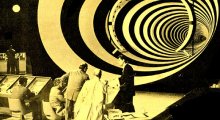 (Would you change you?) Old Lue sat by the desk, pondering the note. What should he say to himself? The last note didn't work as well as he'd hoped. He put his time travel gadget down on the bed for the umpteenth time and stared at it. He could only use it twice more to go back in time to help his younger self. And kid know-it-all hadn't listened much to the note on his first trip.