Top 10 songs about car-loving

It seems that there are almost as many songs about loving your car as there are about loving another person. So many "passion for the pistons" ditties, that coming up with a universally accepted list of the top 10 car-loving songs just may not be possible. It's also very interesting to note that there is no single style or genre of music that owns car-loving songs. From Rock to Soul and Country to Folk, they all have motoring melodies that stand the test of time. Honorable mentions go first; Mercury Blues, done by both Steve Miller and Alan Jackson. Fun Fun Fun by the Beach Boys. Mustang Sally by Wilson Picket, and Maybellene, by the legendary Chuck Berry are all highly popular, memorable songs that just missed the Top 10 but were still huge hits.
Cruising in at number 10 is Pink Cadillac by Bruce Springsteen, better known as the Boss. Springsteen, who loved his cars, also recorded the songs Cadillac Ranch and Racing in the Street.
Moving down the road to number 9 is somewhat of a novelty song called Beep Beep by the Playmates from the late 1950's. It was the only chart-topping song the Playmates ever did.
Pulling in at the number 8 position is Low Rider by the group known as War. Recorded in 1969, it was probably the single biggest hit for War.
With it's very own parking place in a real museum, the number 7 song is One Piece at a Time by Johnny Cash. This novelty rockabilly song is about a factory worker who steals a Cadillac one piece at a time. It topped the charts in early 1976 and would be the last song to reach number one in Billboard magazine ever recorded by Cash.
Racing to the halfway point are the Beach Boys with 409, song number 6 from the early 1960's. The 409 stood for the number of cubic inches of displacement in the engine block. It should be noted that the Beach Boys are the only group to have two tunes in the top 10 car-loving songs.
Staying with that early 60's era and style is the number 5 song, Hey Little Cobra by the Rip Chords, another one-hit-wonder group that echoed the very popular California Beach Boy sound. They had no other notable songs.
Ronnie and the Daytona's "turn it on, wind it up, and blow it out," with the number 4 song, G.T.O. The song was about the Pontiac G.T.O. A sleek, sexy, drag racing car from the mid-60's. By the way, G.T.O stands for Gran Turismo Omologato, which roughly means "grand touring automobile."
Tearing up the track are the Beach Boys again at number 3 with Little Deuce Coupe. The ultimate hot rod of it's time, a little deuce coupe was a 1932 Ford with a souped-up engine.
Speeding in at song number 2 is Rocket 88 by Jackie Brenston and his Delta Cats. Recorded in 1951, this Rhythm and Blues song is about an Oldsmobile 88, a deluxe car back in those days.
"Passing cars like they were standing still," is Commander Cody and his Lost Planet Airmen with Hot Rod Lincoln, the number 1 car-loving song of all time. Hot Rod Lincoln has been recorded by numerous artists including Asleep at the Wheel and Bill Kirchen.
Editor's note: While the author said it is not possible to put together a list that everyone would be happy with, I can not, in good conscience, leave out the best of the best in my opinion, which, I'll add here as the ultimate number one, Queen and "I'm in Love with My Car."
---
more in Entertainment
The rise and rise of Ellen Page
Ellen Page is without question the woman of the moment in Hollywood right now. With a Best Actress Oscar nomination recently stacked up alongside a list of achievements for her turn in 'Juno', including being named the Breakthrough Actress of the Year at the Hollywood Film Festival, she is, to coin a lovingly overused tinseltown term, 'hot' right now. Piping hot.
Between a Rock and a Heart Place
Screw Geoffrey Chaucer. Not for his poetry, quite honestly, I don't think I've ever read any of it, but because apparently he inadvertently created Valentine's Day. I didn't know this until recently. I just assumed the holiday was the byproduct of greeting card company greed and lack of anything better to do in the month of February, but evidently it's been around for quite some time.
Halle Berry burns at the box office
Buried deep within the embers of grief, a spark of friendship ignites in relationship drama 'Things We Lost in the Fire'. However, while this thoughtful, emotional film delivers some strong performances and appealing cinematography, don't expect a blaze of drama and excitement.
Girls Aloud or Girls Alone?
Despite having fame, wealth, beauty and a hugely successful pop career, the members of Girls Aloud seem to be lacking in one department - a happy and healthy love life.
Great American Dumb Ideas: Elder Blues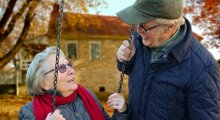 Fads in mental health diagnoses come and go. Something called Existential Neurosis was popular for a while, but seems to have lost some of its gloss in recent years. For a long time now, any high-energy, active child risked being diagnosed—often misdiagnosed—with Attention Deficit Hyperactive Disorder (ADHD).