MMA Animals - the first kids brand for mixed martial arts coming soon

During the last years UFC as well as other martial arts brands have become more popular that ever. And so has the sport itself. Even one of my friends who I knew during my high school years has taken up the sport. I remember once he was walking on the street with slightly bruised nose and I couldn't help but wonder, what had happened to him. The answer - MMA. During the school years he has been more of a computer geek. Now he's doing MMA. Quite a change I must say.
Now Appiphany Technologies has also announce the upcoming launch of the world's first MMA brand for kids. It will be a great (and safe) way to experience the world of MMA. Not only are they coming out with the mobile games for iPad, iPod and iPhone, but there will also be augmented reality ebooks that, if used together with a special mobile app, will literally become to life. And smart toys or MMA Animal Action Figures that you can kind of transport into the virtual world with the use of the mobile app. Appiphany's whole idea is to mix the physical and virtual world as much as possible.
The brand will come with eight interactive stories and eight characters to choose from. Each of them with their own skill set and all of them from different regions of earth.
MMA Animals is expected to launch in Q3 of 2013, so stay tuned for more information about it.
Disclosure: This post was requested by an advertiser.
---
more in Entertainment
The rise and rise of Ellen Page
Ellen Page is without question the woman of the moment in Hollywood right now. With a Best Actress Oscar nomination recently stacked up alongside a list of achievements for her turn in 'Juno', including being named the Breakthrough Actress of the Year at the Hollywood Film Festival, she is, to coin a lovingly overused tinseltown term, 'hot' right now. Piping hot.
Between a Rock and a Heart Place
Screw Geoffrey Chaucer. Not for his poetry, quite honestly, I don't think I've ever read any of it, but because apparently he inadvertently created Valentine's Day. I didn't know this until recently. I just assumed the holiday was the byproduct of greeting card company greed and lack of anything better to do in the month of February, but evidently it's been around for quite some time.
Halle Berry burns at the box office
Buried deep within the embers of grief, a spark of friendship ignites in relationship drama 'Things We Lost in the Fire'. However, while this thoughtful, emotional film delivers some strong performances and appealing cinematography, don't expect a blaze of drama and excitement.
Girls Aloud or Girls Alone?
Despite having fame, wealth, beauty and a hugely successful pop career, the members of Girls Aloud seem to be lacking in one department - a happy and healthy love life.
Great American Dumb Ideas: Elder Blues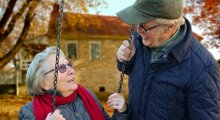 Fads in mental health diagnoses come and go. Something called Existential Neurosis was popular for a while, but seems to have lost some of its gloss in recent years. For a long time now, any high-energy, active child risked being diagnosed—often misdiagnosed—with Attention Deficit Hyperactive Disorder (ADHD).