How to turn a student hovel into a bohemian paradise of cool without spending all your beer money

About the author: Karen Ash is a blogger for cheap cushions UK supplier Cushion Couture. For sophisticated style on a student budget, look no further.
Whether you're a dewy-eyed Fresher or a seasoned third year veteran, the importance of a quality student pad is paramount. It's the place where you party, study, game and chill, so the address of your Varsity rent will forever hold your memories (including the ones you'd rather forget!) It's also your home from home and we know that those washing up wars and late-night lashes can get even the chummiest of housemates down. Taking your shared pied-a-terre or halls of residence from drab to fab will get you a great house party rep, get you through those tough revision times and make those occasional homesick days a little easier to bear.
First things first, we all know the one essential students DON'T haveÖmoney. Never fear, we'll show you how you can turn your damp walls and draughts into hippie chic for next to nothing. From wall hangings to ash trays, furniture tips to garden delights, follow these handy DIY inspirations for the ultimate Fresh Meat maison.
Free or dirt-cheap sofas, tables and chairs can be picked up or even delivered to student houses from cool sites like Freecycle or localised community stores. Most student areas have one of these charity stores nearby, so If you want more seating space, an extra coffee table, CD racks, TV stands and loads more then get Googling and search for hidden gems.
Both midweek chilling and weekend raving require ambience. Take a bag of cheap tea lights from the local Poundshop and collect glass jars until you have a nice pile of them. Mix a quarter cup of white vinegar, white rice, a sprinkling of gold glitter and three drops of food colouring together before pouring into the jars and plonking the candle on top. Voila! Instant cool lighting.
You can buy fabric by the yard from any online retailer or haberdashery shop. Cheap wooden frames can be bought from art shops or by speaking to the Uni art department. Stretching the fabric over the frame and pinning or stapling down creates a wall hanging you can make as psychedelic as you like with fabric paint, graffiti pens or sewn on beads and buttons. Extra tip, fabric can be stretched over sofas and cushions for makeshift throws or cushion covers. A staple gun works wonders here.
Mannequins from local department stores can be fancy dressed and stood in corners. Diamante sticky studs are cheap from Ebay for your TV remote and mirrors. Chinese garden lanterns look really cool and are only a couple of quid online. Saving cash and looking fab go hand in hand with painted window boxes full of mint, basil and thyme. Crates from pubs or cheap garden centre boxes do the trick and you can make cocktails with the herbs as well as house bolognaise.
Getting creative and pooling house resources is essential. Posh friends and family may be getting rid of mismatching china cups or candelabra and if anyone knows a landlord there could be a pub table in it for you, complete with beer stains. If all else fails and you are truly stuck for ideas, take one last piece of advice. Fairy lights and an extension lead will take you a long, long way.
---
more in Entertainment
The 10 Most Ridiculous Car Scenes in Movie History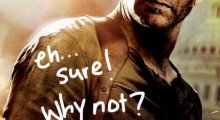 If youíve seen any kind of action movie, youíre sure to be familiar with the classic elements of an awesome car chase: driving on sidewalks, narrow alleys, choreographed pedestrians who know just when to dive out of the way, complete disregard for damage, destruction or insurance, and obstacles that are strategically placed to be destroyed in a series of action-packed explosions.
Twins, they always need to compete for everything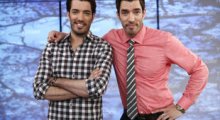 When it comes to identical twins, there are usually two versions of how things can go. They either do everything together, get along well and try to stay as similar as possible. Or they always feel the need to compete against each other and be as different as possible. Of course, there's also an option in between, or in extremely academical language, this and that. A good example here is Jonathan and Drew Scott.
7 most ridiculous adult websites
Porn sites are out there waiting to satisfy every possible need you might have. Google gives you 216,000,000 results for the keyword porn. Newly launched search engine Cuil gives you 377,545,970 results. You donít need to know about them all, no you donít! But there are a few you might want to see, the most ridiculous ones.
Befriend a Book
Embark on a cost-efficient, energy-conserving adventure with a new friend.
The professor and jury duty blues
Every American, sooner or later, gets the daunting request to do their civic duty. We are told that it is our responsibility as American citizens to accept our extra duties willingly and professionally. I disagree. When Iím doing my civic duty, I like to be as difficult as possible as a strike against the laws and systems that we have in place to attack minorities and the youth.