England's hidden indie treasure: Kartica
If you're wondering why we've been talking about music and neat new artists more lately, the answer is rather simple - what the hell else are you supposed to write about during the summer? Nonsense, creepy stuff, and music! Elementary, my dear reader!
"The sparkling peaks of musical genius, the darkest depths of talentless crap! All that caught the ear, of the ordinary man!" - If that's not enough intrigue for you to check out one of England's hidden indie treasures to make you click on through and check them out, then I don't know what is. Kartica are pure, British indie, who make music that we thought was long dead in the '90s and early '00s. If you're fans of Oasis, The Verve, Kasabian and Editors then these guys are a must for you.
Kartica have a single out now entitled 'Don't You Think So', which is packaged up nicely with two bonus B-Sides ('Wider Eyes' and 'Taller Today'), which is the perfect indie package for any iPod or playlist.
They guys have already bagged 'Tune of the Day' on AltSounds, boasting gleaming critiques such as: "Kartica are committed to writing pure, British indie that's true to its core. The Sheffield quintet have created a diamond of a track that's laced with intrigue and dense guitar riffage that's powerful enough to make the hairs on your neck stand to attention."
---
more in Entertainment
Interview with Alex Kelly? Yes, you do want to hear more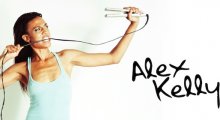 I swear. I can't remember a time when I wasn't singing. I think if the love of music is something that is truly inside of your heart, it's what you do naturally.
Confessions of an unstable Editor-in-chief: The Cheers has a new office!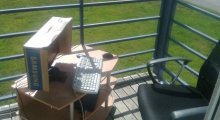 We have worked long and hard to get to this point and now that it's happened, we're proud to announce the opening of a new office for The Cheers magazine.
U2 360 Concert Review - When Love Comes To Town
Whilst not a regular concert goer, I recently attended the U2 360 tour concert in Sydney, Australia. Being a bit older and not quite up to the intensity of the 'mosh pit' a group of us sat in stadium seats a fair way back and elevated from the stage.
Delusions of an invisible escape artist
It's a story about heroism, story about a man's quest to discovering his true self. It's a story of true contradictions and criminal convictions. Self destruction among the people with some serious mental distractions. It's a story of faltering predilection towards unnatural affections. It's a story like no other that has ever been told. It's a story that has never been told. Be it cold or be you sold. If nothing else, the story for sure is adamantly bold. In a card game it would never fold. Never fold.