Research Reveals: A dead man is a fine man
According to the recent study conducted by the company Idiots United Inc. being alive might not be such a good idea for men anymore, at least not in terms of getting noticed by women.
Based on the results of the study, 83% of the women asked about their preference in men answered that the best man is a dead man. True, they weren't asked this question directly. The study was to be conducted in two different parts. The first part was to find out what women want in a man. Here's a short overview of what the study showed.
The creation of a perfect man
If you're a woman, then based on Idiots United Inc.'s undisputedly accurate study, which is based on surveying billions of women around the world, your perfect match is great looking, really handsome.....but not a pretty boy, so great looking but not too pretty. He's also hot, obviously, and tall, but not too tall. Really strong, very smart, independent, firm and decisive, great build is always a good thing and of course, he also needs to be really sweet, have a great sense of humor, in touch with his feminine side (but he shouldn't be gay). He needs to be caring, sensitive, honest, and humble, as well as really good socially, but committed to you and you alone. He should be loving, sharing, considerate, supportive, honest and trustworthy.
The perfect man should be really hard working, goal oriented, always up for new challenges, financially stable - okay, rich; at the same time he needs to always put his family above work, place his wife and children's priorities above of himself and everyone else, be dedicated to selfless service to his wife.
And the main thing - he needs to be a simple man. As you clearly understood from everything above.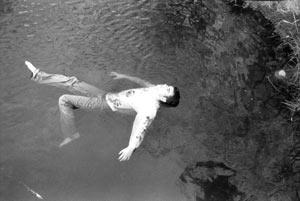 Photo By
Conduit
After the completion of the first stage of the study, Idiots United Inc. came to the conclusion that the second stage - finding an example of the perfect man isn't required, because they already knew who it was. It's a dead man. A dead man is great looking (any kind of make-up is possible), he's definitely hot (once inside the oven), he's as tall as you want him to be (dead things can be stretched, I guess), he's strong enough and has the willpower to do whatever he wants to do (in this case, stay in one place), obviously he's firm and decisive, his sweetness comes out when he just listens to you quietly, he's great at taking jokes on himself - always a good quality. He's in touch with his feminine side, you know, all that make up. He never lies, he's humble. Socially he's quiet, but in a good way - he never embarrasses you. And you can always tell him all of your secrets, never can you say he's not trustworthy. He's financially stable (really stable, his financial situation will never change), he puts you above his work and stays with you at all times. He never snores. A dead man is a simple man. Really simple.
The results are in - men, to the suicide booths!
---
more in Entertainment
The Most Stupid Laws Around The World
Each and every country has its own laws and sometimes, they can really make you laugh and cry at the same time. Let's take a look at some of the weird or just downright stupid ones here.
You're The Chef!
Are you into culinary miracles or just a fan of good cooking? Well, ten of the world's most celebrated chefs are about to "fight" in hopes to become a member of the Iron Chef culinary society.
3D Bubble Mania...what?
Remember the bubbles? I mean, really? Remember when you were a child, at some point of your life you definitely had a bubble blowing thing which you used to blow out bubbles?
Why I Will Never Help You Move
Donít get me wrong; Iím always happy for friends who make positive changes in their lives. A new job, a new significant other, a new baby, Iím always game to celebrate. But there is one announcement of change that I dread from all of my friends; a new place to live.