Second annual HGTV Urban Oasis Giveaway - August 18, 2011
Freebies, free stuff, free giveaways - isn't that what we all pretty much love? I think you agree, I know I do. There are quite a few Giveaway events out there, but some of them are definitely better than others, worth more than others. The HGTV Urban Oasis Giveaway kicks off in less than two weeks, in August 18 and lasts until Friday, October 7, 2011.
it's valued well above $750,000
.
If you want to take part of this giveaway, enter HGTV.com as well as HGTV's Frontdoor.com once a day. The giveaway is on from Thursday, August 18 to Friday, October 7, 2011.
"If you like the energy of city life, then the HGTV Urban Oasis is the giveaway for you" said network President Jim Samples. "Chicago is an ideal location for anyone who has dreamed of living a downtown lifestyle and, once again, viewers can expect the HGTV Urban Oasis residence to showcase the best in urban design and progressive city living."
---
more in Entertainment
Why I Will Never Help You Move
Don't get me wrong; I'm always happy for friends who make positive changes in their lives. A new job, a new significant other, a new baby, I'm always game to celebrate. But there is one announcement of change that I dread from all of my friends; a new place to live.
Top 9 Weirdest Natural Disasters
It seems people just do not understand climate change. Some have no respect whatsoever for nature, others are so narrow minded they believe that the powers of nature are a hoax to promote green policies. In dedication to them here are the top 9 most weird natural disasters.
13 Weird Ad Campaigns
Ads campaigns are everywhere. An ordinary person is exposed to billions of ads in their life time. There is no knowing how this can influence the human psychology. In a fierce world where advertisers compete for the consumers attention, weird campaigns are those that are outside the ordinary system.
Top 10 World's Weirdest Toilets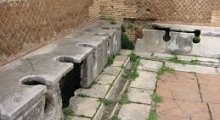 Toilets are everywhere. But why is that most toilets look the same? It seems originality regarding toilet design is a taboo. Toilets on which we sit on every day, have a history. Who made what? Who made you? Or who made the bathroom? In this article, all of this is irrelevant. Here are the weirdest looking toilets. Why? Just because we like flushing them out!