Play Virtual Investing game: reduce the risk of failure in real stock market
Do you want to become a shark of Wall Street? I bet you'd
like to make some money like the aces there, just by investing, investing
and then investing some more. And earn couple of percentages from your money
every single day?
A couple of percentages isn't much, or is it? Lets imagine
that you're playing with $500 000 dollars. Two
percentages of it is $10 000. When you compare this 10k with your initial
investment of 500k, it's not much. But imagine if you could earn 2%
income on your money each and every day. This means that after just one month
you would have $300 000 extra. Oh wait; actually it's not just that little.
Every day you would have 2% more money to play with. So if you managed to earn
2% of your money every day, you will end the first month with more than $420
000 in additional bucks, total balance will be over $920 000. Sounds great,
doesn't it? Basically, whatever amount you start with, you will be able to
double it month by month (assuming you are able to win 2% every day of course).
However, there are two things you need to consider here.
Firstly, you do need to start with enough capital to actually earn anything.
That's because of the commissions, etc. But $5000 might be the smallest amount
that might actually make everything worthwhile.
The second thing, and that's the most important point to
think about - if it's that simple, why isn't everyone making money on the stock market? That's because it isn't
simple. It's possible, but it isn't simple. Whether you're a long-term investor
or a day-trader who is buying and selling stocks every day (thus making it
possible to earn daily), you need to analyse many different factors of every
stock you're going to buy or sell short. So
before you go to the stock market for real, you should prepare yourself. You
should read about the stock market, market analysis, and you should definitely play virtual stock market that
allows you to see if you have what it takes to become a day-trader, a person who
plays on stock market in hopes to earn quick revenues daily.
One such virtual stock
exchange game is called InvestingExperience – http://www.investingexperience.com.
Participation in this online stock market simulation is free of charge. When
you register, you get $500 000 virtual dollars to play with. You can buy, sell
and also a short-selling option is available in the environment. As day-traders
depend on fast changes, the tool also provides you the necessary stock lists.
The lists include the stocks, which have fallen or risen the most during the
day. They also have their own kind-of-weird, but useful list of stocks that
they recommend (InvestingExperience overview chart – their best
stock predictions). This list might not always tell you whether a certain
stock will fall or rise within the next 15 minutes. But it will definitely give
you lots to think about.
For example, they bring out the number of days the stock has
risen or fallen in a row (and also the total number), it brings out the average
float percentage between stock high and stock low price within the past 2
weeks. The list also gives you the percentage a certain stock has risen and
fallen all together within the past two weeks or more. So it definitely does
give you some necessary insight that many other virtual stock markets don't
provide. They do lack more specific analysis about the stocks available in
their system (about 5000), but for that they have great search options that can
be used to analyse stocks.
So, are you still thinking about becoming a day-trader? I
hope you are. At least it would be worth to do some training at
InvestingExperience to see if you'd even make it in the real world.
---
more in Entertainment
The rise and rise of Ellen Page
Ellen Page is without question the woman of the moment in Hollywood right now. With a Best Actress Oscar nomination recently stacked up alongside a list of achievements for her turn in 'Juno', including being named the Breakthrough Actress of the Year at the Hollywood Film Festival, she is, to coin a lovingly overused tinseltown term, 'hot' right now. Piping hot.
Between a Rock and a Heart Place
Screw Geoffrey Chaucer. Not for his poetry, quite honestly, I don't think I've ever read any of it, but because apparently he inadvertently created Valentine's Day. I didn't know this until recently. I just assumed the holiday was the byproduct of greeting card company greed and lack of anything better to do in the month of February, but evidently it's been around for quite some time.
Halle Berry burns at the box office
Buried deep within the embers of grief, a spark of friendship ignites in relationship drama 'Things We Lost in the Fire'. However, while this thoughtful, emotional film delivers some strong performances and appealing cinematography, don't expect a blaze of drama and excitement.
Girls Aloud or Girls Alone?
Despite having fame, wealth, beauty and a hugely successful pop career, the members of Girls Aloud seem to be lacking in one department - a happy and healthy love life.
Great American Dumb Ideas: Elder Blues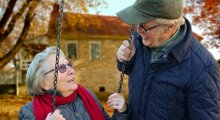 Fads in mental health diagnoses come and go. Something called Existential Neurosis was popular for a while, but seems to have lost some of its gloss in recent years. For a long time now, any high-energy, active child risked being diagnosed—often misdiagnosed—with Attention Deficit Hyperactive Disorder (ADHD).