Earn Money Playing Slots - or not

Yay, what a life would that be - sitting behind the fancy slot machine, hitting buttons, sipping Bud Light and constantly cashing out big bucks, or coins. Sure, we know that casinos (even online casinos, yes) take their "edge" and earn hideous profits, but we don't think about it when we step into a local casino or log on to our favourite online casino.
However when choosing the right casino for you it is important to consider a few factors. When going online for playing slots, you better check and see whether you get a welcome bonus, free spins etc. Since there too many online casino sites to play games, we recommend you to read the casino reviews for each casino and see what's best for you (In matters of deposits, payment methods, games and so on). Find a site in google as an example of a great casino reviews site and go through the steps of learning about the different slots types, games and tips. If you don't feel ready to play online, and want to know more about the types of games available and some beginners tips then you can check
Poker Bankroll Deals
.
There's always a constant battle between "us" (the players) and "them" (casino) and most of the time we're pretty equal, until the slot machine suddenly turns into a money-leeching demon and starts eating our cash. So, after losing again, you ended up reading this article that has a title which gives you some hope.
Not that I want to sound rude, but reconsider because you won't win your money back.
Every bet you make equals giving your money away. Actually, there's only one way to gain a profit visiting a casino - that's when you sign up for a casino's club card and go visit the place once in a while. You won't play but always claim your "Club Member Bonus" free drink. After drinking it you should leave the place, but knowing you guys, that almost never happens.
For people who still believe that they can win with slot machines, I have listed some myths and rumors that aren't true. Believing in them brings you debts and misery.
Some people believe that a poorly paying slot machine is about to hit big, maybe even a jackpot, so it would be smart to keep on playing or even raise the bets.
Well, actually there's no difference if the machine has been paying poorly for a long time or not, because each spin is unique and totally random (IF, that is, you're playing at least Casino Control Commission approved casino and the machine uses well-known software). There's different situations in land based casinos, because even if they claim that slot machines payout percentage is fixed and constant, it still happens sometimes. The payout percentage has been lowered to nonexistent and you can keep on playing and losing forever. There's also no such thing as "feeding the slot machine" (this equals losing your money in order to win it back later) or "milking it".
Talking on a cell phone when gambling drives high tech slot machines crazy and helps to win big.
...or not! Actually some cell phones damage digital slot machines (especially before GSM coverage, when NMT was a superhit), but I haven't heard any stories of players being able to cheat the casino with this trick and withdraw the money.
I know a few players who have had sudden $100,000 on their bankroll and weren't paid, because the computer chip made a mistake (probably caused by cell phone). Every bet and win has to be proved by a slot machine's previous winnings history, which is saved and constantly checked.
Temperature of the coins affect slot machines and payout rates. Hot coin means more money!
Another twisted fairytale. If you're already so credulous, don't visit casinos at all - you will gamble your brains off like that and go home crying. Computer chips have a RNG chip (Random Number Generator) that isn't affected by anything, even not by the coin you have stored and heated up between your buns.
We could continue this list, but I'd rather not do it because it all comes down to one thing - in the long run there's no way you can beat the slot machine and steal its edge. If winning was easy, there would be no casinos. There's no simple "How to Beat Slot Machine" tactic, only some simple rules that should be followed to keep your losings as low as possible.
---
more in Entertainment
The rise and rise of Ellen Page
Ellen Page is without question the woman of the moment in Hollywood right now. With a Best Actress Oscar nomination recently stacked up alongside a list of achievements for her turn in 'Juno', including being named the Breakthrough Actress of the Year at the Hollywood Film Festival, she is, to coin a lovingly overused tinseltown term, 'hot' right now. Piping hot.
Between a Rock and a Heart Place
Screw Geoffrey Chaucer. Not for his poetry, quite honestly, I don't think I've ever read any of it, but because apparently he inadvertently created Valentine's Day. I didn't know this until recently. I just assumed the holiday was the byproduct of greeting card company greed and lack of anything better to do in the month of February, but evidently it's been around for quite some time.
Halle Berry burns at the box office
Buried deep within the embers of grief, a spark of friendship ignites in relationship drama 'Things We Lost in the Fire'. However, while this thoughtful, emotional film delivers some strong performances and appealing cinematography, don't expect a blaze of drama and excitement.
Girls Aloud or Girls Alone?
Despite having fame, wealth, beauty and a hugely successful pop career, the members of Girls Aloud seem to be lacking in one department - a happy and healthy love life.
Great American Dumb Ideas: Elder Blues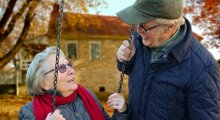 Fads in mental health diagnoses come and go. Something called Existential Neurosis was popular for a while, but seems to have lost some of its gloss in recent years. For a long time now, any high-energy, active child risked being diagnosed—often misdiagnosed—with Attention Deficit Hyperactive Disorder (ADHD).