Interview with a Visionist

Mathias the Forgotten Disciple
Recently I was able to catch up with Mathias and asked him a few questions.
Q) Out of all the genres of music—why Hip-Hop?
A) Hip-hop is one of the few genres of music where you can mix other
genres along with it and it still keeps its own identity.
Q) What is it that makes you any different from other Hip-Hop artists?
I guess the biggest difference between myself and other artist is that
I have a moral obligation to speak out against things that are wrong
and unjust. Other artists are just content with being entertainers,
while an artist, such as myself, wants to challenge people as
individuals.
Q) Do you think your age adds a special wisdom to your lyrics?
To some degree … but not really. Solomon became king of Israel at a
young age, but he had enough common sense to ask God for the wisdom to
judge and rule his people justly. Wisdom is knowing who really is in
control … God!
Q) Your music is about recognizing social issues
like domestic violence, women and body image, and homelessness. Why do
you choose to rhyme about subjects some people don't even like to talk
about?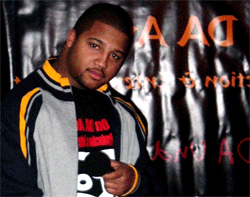 A) In order to grow, sometimes people need to be taken out of their
comfort zones. They need to be shaken up a little so they can
understand how other people think and feel. In my music I try to bring
about awareness, and maybe even stimulate a solution, from the minds of
the people who listen, and are in tuned with the message.
Q)
Sista Beauty is my favorite track. It is unusual these days to hear
male hip-hop artists rap about female empowerment. Why do you?
Black women do not always get the respect that is due to them from a
positive standpoint. Society portrays them at times as being inferior
in beauty and intellect, and we as black men have played a big part in
that by allowing western civilization to define what beauty is to us.
Whether big or small, tall or short, white or black, beauty shows
itself in all facets of life, but only if we take the time to see it.
Q) Who are your biggest influences?
A) I have been impacted and influenced by so many different people in
music that it would not be right for me to only speak of just one
individual. But what I can tell you is that any one who does something
from the heart and is real and true about their feelings … nine times
out of ten I have been influenced by them or will be impacted by them.
Q) What's your favorite track on the CD?
A) My Story, because it tells about our actual struggle in trying to get in this music game.
Q) What advice do you have for younger generations? (music business or otherwise)?
A) Never ever stop dreaming. There are no limits to what God can do for you, if you abide in his will.
---
more in Entertainment
The rise and rise of Ellen Page
Ellen Page is without question the woman of the moment in Hollywood right now. With a Best Actress Oscar nomination recently stacked up alongside a list of achievements for her turn in 'Juno', including being named the Breakthrough Actress of the Year at the Hollywood Film Festival, she is, to coin a lovingly overused tinseltown term, 'hot' right now. Piping hot.
Between a Rock and a Heart Place
Screw Geoffrey Chaucer. Not for his poetry, quite honestly, I don't think I've ever read any of it, but because apparently he inadvertently created Valentine's Day. I didn't know this until recently. I just assumed the holiday was the byproduct of greeting card company greed and lack of anything better to do in the month of February, but evidently it's been around for quite some time.
Halle Berry burns at the box office
Buried deep within the embers of grief, a spark of friendship ignites in relationship drama 'Things We Lost in the Fire'. However, while this thoughtful, emotional film delivers some strong performances and appealing cinematography, don't expect a blaze of drama and excitement.
Girls Aloud or Girls Alone?
Despite having fame, wealth, beauty and a hugely successful pop career, the members of Girls Aloud seem to be lacking in one department - a happy and healthy love life.
Great American Dumb Ideas: Elder Blues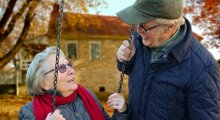 Fads in mental health diagnoses come and go. Something called Existential Neurosis was popular for a while, but seems to have lost some of its gloss in recent years. For a long time now, any high-energy, active child risked being diagnosed—often misdiagnosed—with Attention Deficit Hyperactive Disorder (ADHD).