Rock and 'Run Run Run'
Rock and roll has saved many of our souls. You might remember being the
awkward adolescent, hating pretty much everyone around you including
yourself, and feeling like no one sees things as they really are. Then
one day, you pass an old skate shop or record store pumping out some
notes of wisdom in the form of loud guitars, heaven-raising bass rifts,
and a mournful voice full of scowling anger and heartbreak recognition.
Such moments are the aha moments that make everything all right. Rock
and roll is a savior worthy of claiming as your patron saint.
Run
Run Run is a group of hard rocking dudes who appear to strut while
playing "shoegazer" music. One look at their lithe yet slouchy hipster
poses take me back to memories of the mysterious cool boys who do music
rather than effin homework, hiding behind Melody Maker in class. Just
when you think they are going to ignore you, pow! The band members
sling and fling dreamland sounds towards you at warp speed. Their
performances exude catapulting and swirly instrumentation, trippy
dancing lights, rugged yet sweet lyrics and LA bravado.


Trip out with Run Run Run
Their UK shoegazer influenced
sound is infused with power rock roundhouse kick. For those clueless on
what shoegazer means, will see the light with singer Xander's pithy
definition. "The term 'shoegazer' came from the press describing early
90's English bands that were making swirlee psychedelic music, usually
had a big light show, and seemed so pre-occupied with creating these
sounds, that they would just stare at their feet and remain motionless.
The last part of this description surely does not apply to Run Run Run.
The live show is certainly energetic and rambunctious. The sounds
created by Run x 3, however, certainly nod to the beautiful soundscape
laid out by our "shoegazer" predecessors. We are shoegazer with a
kick."
Run Run Run have played with Manchester UK's Brassy,
London's Gene, Kid Galahad, Haven, Shack, and Driveblind. February 27,
2004, they opened up the Zombies Reunion Tour at the Key Club, on
Sunset Blvd, in Hollywood. They had an explosive debut a week after
9/11, playing with Concrete Blonde and drunken dog's dream, Whiskey
Biscuit, at the Spaceland, in the Silver Lake, LA neighborhood.
The
third song,."Skyscraper" from their five song Drizzle EP, is not
intended to be a psychic- though psycho agro energy strikes out from
the guitars with furious slashes- premonition of the NYC attack. Xander
shares that the song is about "a weird dream I had where I was 15 and
wanting to kick down all the tall buildings so I could see the sun.
Then 9-11 happened, and the meaning changed for everyone else.'
"Skyscraper"
is a powerful moment for the band. When it was written, worked up and
eventually realized on stage, we could tell that this song was going to
have an impact. It almost always closes our live set, feeling like a
punch when it kicks in. People always request it [on influential radio
stations] and ask about it. It does it job in conveying the
uncomfortable and explosive feelings boiling inside the mind of the
would-be "domestic" terrorist/pyromaniac. It came from things my
schoolmates used to talk about when [we] were pissed off teenagers, and
I chose to capture those sentiments in a song. I chose an obvious focal
point, the World Trade Center in NYC. When 9-11 happened, a ficticious
story became reality. Other than unfortunate coincidence, the song has
no political tie-in to the terrorist attack.
Run Run Run, of
course, does not condone that behavior and finds it an unfortunate
thing that such destructive inclination lay within so many young
people." Anger can explode psychotically on so many levels. Kids, stick
to Run x 3s elevating "nightmare pop."
All 5 songs on
their 2003 EP are capsules of rock pop candy. Personally, I love the
romantically heart-wrenching "2 A.M", set in a nighttime beach romp
with a boy and a girl, getting lost in all the waves. I mean all the
waves. "I just close my eyes and drift away..." Uuggghhh, how can you
not love it. "All of the Sudden" is a multi band-member favorite.
"Drizzle" and "Song and Dance" are in heavy rotation on the
groundbreaking 'John in the Morning' show on Seattle based, listener
powered radio station, 90.3 FM, KEXP, and success-predicting LA
stations, 90.3, KCRW, and 106.7, KROQ. Have you heard them on your
local waves? Probably so, because they rock!
LA band, Run Run Run
Things
are looking LA sunny for these boys. "We are finishing the writing for
our full-length now. Our current plans are to record it ourselves and
then license it to whichever label is our biggest supporter and fully
embraces our vision. The First Time Records (who back their Drizzle EP)
have been great and we hope they will get involved."
Let the bidding war for our rock saviors start now.
Here are some more quips from Run Run Run. They are:
XS: Xander Smith, vocals and guitar
PM: Peter Martin, guitar
JG: Jeramy Gritter, Bass and vocals
DD: Daniel Dod, drums and vocals
EK: Ed Keller, French horn
Phil
Cunningham of New Order fame and Marcus Brown of Gene, Richard
Ashcroft, and Madonna fame, are prominant guests in the studio and on
stage.
VV: Who are the band's influences?
DD: My Bloody Valentine, Sunny Day Real Estate and ACDC.
JG: Minor Threat
XS: The Church and Tones on Tail for me
PM:
Doves, Radiohead, Swervedriver, Verve, Slowdive, Ride, Oasis, early U2,
Rolling Stones, Black Sabbath (with Ozzy. OK, some stuff with Dio),
Motley Crue, Bauhaus, Joy Division, Sisters of Mercy, Iron Maiden and
the list could go on for days.
VV: What do you hope to happen from your future SXSW (South by SouthWest music festival) gig?
DD: Our van will make it there and back with no problems and to see Dillinger Four at EMO's.
XS: To see the bats down by the river. They are amazing and love rock bands. They [literally] are real bats!!!!
PM:
It'll be great to play these songs in front of people who might not
otherwise hear us. I'm hoping to win over some new fans.
VV:
What are the biggest lessons you guys have learned from playing in LA's
music industry? How does this translate to the national and
international markets?
DD: Play whatever songs you want, and
rock as hard as you can. Fuck them if they don't like it. If there is
no blood shed, then it wasn't a good show.
JG: Being prepared and being as pro as possible makes it so you can just think about the music
VV: If you could collaborate with any artist, label, or producer, who and why?
DD: Quincy Jones.
JG: D'angelo because Voodoo is one of the best produced CDs ever
XS: I would say the BEEGEES. Those guys make amazing sounding records.
PM:
Kevin Shields. That guy just totally created his own sound structures.
Sounds that are so complex and rich and layered and beautiful, and in
my opinion no other guitarist has come close to creating something like
that. Johnny Marr because his approach to the guitar is so unique and
he writes the coolest parts. Noel Gallhager because that man can write
a great fucking song.
VV: On a personal level, what do you love (in general) and what do you dream for your future?
DD: Playing music and using it as a vehicle to keep my family stable and myself, FOREVER.
JG: I'll do anything for $100
Run Run Run will be playing at the following shows in Southern California and the U.S. Southwest:
MARCH 12 - House of Blues - LA w/ Psychedelic Furs
MARCH 13 - House of Blues - Anaheim w/ Psychedelic Furs
MARCH 19 - SXSW (South by Southwest Music Festival)-Austin, Texas:
KCRW Showcase @ Texas Union Theatre.
APRIL 7-10 Arizona mini tour
APRIL 24 - The Troubadour- Hollywood, CA. w/ The Cooper Temple Clause and Calla.
Go
to their website www.runrunrun.tv for the latest breaking news and to
hear their awesome sound. They hope to do a West Coast tour soon.
Continue to rock out peacefully.
Cheers,
Valeria Valiente
---
more in Entertainment
The rise and rise of Ellen Page
Ellen Page is without question the woman of the moment in Hollywood right now. With a Best Actress Oscar nomination recently stacked up alongside a list of achievements for her turn in 'Juno', including being named the Breakthrough Actress of the Year at the Hollywood Film Festival, she is, to coin a lovingly overused tinseltown term, 'hot' right now. Piping hot.
Between a Rock and a Heart Place
Screw Geoffrey Chaucer. Not for his poetry, quite honestly, I don't think I've ever read any of it, but because apparently he inadvertently created Valentine's Day. I didn't know this until recently. I just assumed the holiday was the byproduct of greeting card company greed and lack of anything better to do in the month of February, but evidently it's been around for quite some time.
Halle Berry burns at the box office
Buried deep within the embers of grief, a spark of friendship ignites in relationship drama 'Things We Lost in the Fire'. However, while this thoughtful, emotional film delivers some strong performances and appealing cinematography, don't expect a blaze of drama and excitement.
Girls Aloud or Girls Alone?
Despite having fame, wealth, beauty and a hugely successful pop career, the members of Girls Aloud seem to be lacking in one department - a happy and healthy love life.
Great American Dumb Ideas: Elder Blues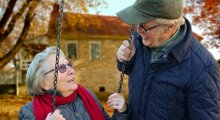 Fads in mental health diagnoses come and go. Something called Existential Neurosis was popular for a while, but seems to have lost some of its gloss in recent years. For a long time now, any high-energy, active child risked being diagnosed—often misdiagnosed—with Attention Deficit Hyperactive Disorder (ADHD).