Our own comic Lue Deck publishes "Stand-up Decoded"!

In his highly informative and contagiously hilarious memoir-slash-guide, "Stand-up Decoded" (published by Xlibris), author Lue Deck pens down a plethora of reportage, rants, rituals, essays and extremely tall tales that expose the secrets to stand-up. Written to help new comics improve their learning curve and honor those who aided him in becoming a comic, he both amusingly and insightfully shines a light on the inner working of stand-up comedy.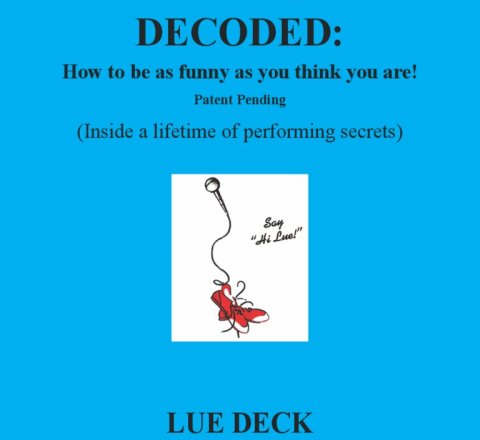 This devilishly clever, informative, and absorbing book serves as a learning tool to the art and science of stand-up comedy. It walks aspiring comedians through a step-by-step process by exposing and explaining certain facets of a stand up's repertoire, teaching them how to adapt, improvise and overcome obstacles every day. From linguistics, punch lines, mouth work, joke lists to crowd control, the author shares an overload of both hilarious and eye-opening essays that teach readers how to obtain a better grasp of how 'funny' works.
Author Deck says, "I believe if you give a man a laugh, then he laughs today. If you give a man the right tools to make others laugh, he (and they) laugh every day!"
As "Stand-up Decoded" teaches readers how to be as funny as they think they are, they are bound to find themselves laughing as they flip through the pages filled with endless wit, humor and amusement.
"Stand-up Decoded"
By Lue Deck
E-Book | 80 pages | ISBN 9781499076677
Available at Amazon and Barnes & Noble
You can buy
Stand-up Decoded here
Lue Deck is addicted to making people laugh. He has been in the world of stand-up comedy for almost 40 years. He has been a columnist for TheCheers.org for five years.
---
more in Cheers
You Might be a Yankee If...
There've been hard feelings between Northerners and Southerners since 1861. Much of these sentiments have faded, but let's get real, not all of them.
26 Ways To Repair America's Image!
Let's face it, as far as America's popularity around the globe goes, we're not doing so well right now. We should be brainstorming to come up with some jazzy ideas to get us back to being everyone's best bud!
My Farked Up Life: Prisoner of The Cheers
I'm being kept in chains inside the cyber castle of The Cheers magazine. My editorial staff is throwing stones at me, one bigger than the other. They used to just call me bad names, but that all changed when I told them there's no money for them anymore.
' People Voting With their Feet! '
(Resistance is Futile!) DNA scientists have pretty much proven humans first migrated out of Africa, and split in two basic groups. The first slowly "lumbarred" to Euro-Asia, the second ...
From First to Worst!
(A critique on The USA's slide in worldwide popularity!) Gosh, it seems like just a few years ago Uncle Sam, America, and most of its people were hot! Damned hot! We all felt lots...