Arnold Schwarzenegger leaves The New Celebrity Apprentice

Arnold Schwarzenegger has announced that he will be giving up his spot as a host of The New Celebrity Apprentice, the role that he took on to replace Donald Trump.
When Trump left the show as the host, however, he remained on as the executive producer of the show. Independent of being a president, and the executive producer of the show, he has been mocking Schwarzenegger for whatever, including poor performance, and wherever, including during an address at the National Prayer Breakfast.
Schwarzenegger said that
"With Trump being involved in the show, people have a bad taste and don't want to participate as a spectator or as a sponsor or in any other way support the show. It's a very divisive period now, and I think this show got caught up in all that division."
The 15th season of the show averaged 5 million viewers per episode, which according to Nielsen company, was lower than any Celebrity Apprentice before. Schwarzenegger says the poor performance has roots in Trump's continued presence in the show.
When the season ended, Trump tweeted in a presidential voice -
"Schwarzenegger did a really bad job as governor of California and even worse on The Apprentice, but at least he tried hard."
Last fall, Schwarzenegger did not endorse Trump, and he also said he would not vote for him. And he didn't.
---
more in Breaking News
Trump wants Washington Post reporter fired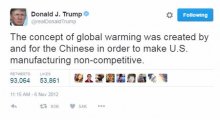 Trump called for a Washington Post reporter to be fired for a (almost) misleading tweet which the reporter deleted just 20 minutes later.
Musk's mega-battery activated, in 60 days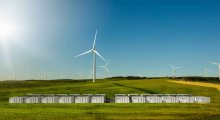 In September Musk made a bet on Twitter, saying that he can solve the power problem in South Australia in 100 days, or it will be built free of charge. The countdown to 100 days started on September 30. Now, after just 60 days, the project has been completed.
Another whackjob set to prove the earth is flat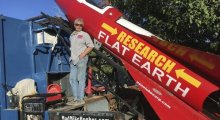 The number of people who haven't heard about the theory that the earth is flat is decreasing every day, since the controversial topic has been in the news quite a bit lately. Around two months ago...
Spain ready to consider giving Catalonia greater fiscal autonomy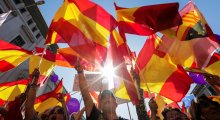 In hopes to soften the crises brought on by the referendum in Catalonia last month that culminated in unilateral declaration of independence (for a moment), Spain is now ready to discuss giving Catalonia greater fiscal autonomy.
End of days coming this weekend, numerologists claim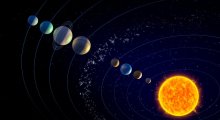 If the news about the upcoming doomsdays would have been true, the world would have ended at least a dozen of times already. But last I checked, we're still here. However, that doesn't mean that the conspiracy theorists couldn't come up with dozens of new dates and the latest "prediction" has been made for this weekend.