TRAVELWISE 2 APRIL 2010. QANTAS.
This article belongs to Travelwise column.
Some concerns have been raised in relation to some of the maintenance practices of Australia's national airline
Qantas
and the
Australia
authorities have put the airline on a 'watch' list.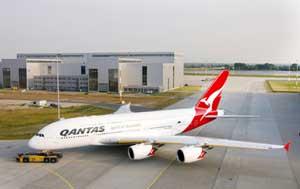 Qantas A380
The latest incidents include a faulty brake system on an A380, a failed engine on a 747 and a Boeing 737 that was allowed to fly with a cracked cockpit window.
Travelwise already has
Qantas
subsidiary
Jetstar
on a no-fly list and we now have no other alternative than to put
Qantas
on a watch list.
For passengers, it may well be wise to find alternatives other than
Qantas
in terms of Australian domestic air travel, while on international routes, there are a number of other
airlines
that fly between
Australia
and destinations throughout the world.
This advice applies until further notice.
Henk Luf.
Travelwise
---
more in Travel
TRAVELWISE TRAVEL WARNING. DO NOT TRAVEL TO FIJI. 5 NOVEMBER 2009.
As a direct result of the latest developments in Fiji whereby the Fijian military dictatorship has thrown both the Australian and New Zealand High Commissioners out of the country as well as the removal from Fiji of a Fijian-born Australian academic, after he criticised the Bainimarama military regime, I have no option but to strongly recommend that people intending to travel to Fiji for both holiday or business purposes, refrain from doing so as their safety can now no longer be guaranteed.