TIGER AIRWAYS 10-10-09. CAUTION ADVISORY
This article belongs to Travelwise column.
Tiger Airways is one of the more recent entrants into the Australian domestic
airlines
market. It is an 'el-cheapo' budget carrier flying Airbus A320s to and from Australia's major capital cities.
The airline is part-owned by
Singapore
Airlines.
In recent months, a number of stories have come to light in relation to the airline treating passengers in an inappropriate manner in relation to schedules, extra luggage and generally treating the passengers as being second-class citizens.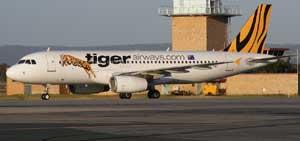 File photo: Airplane-pictures.net
The stories that have come from Tiger Airways passengers in relation to the airline's conduct towards them have not been pretty ones. A number of these incidents have been logged and the problems appear to be continuing.
I would have thought that Tiger's parent company,
Singapore
Airlines, would have insisted on better standards being applied in relation to this airlines.
At this point in time I will put a 'be cautious notice' on the airline.
Should the problems continue though, I will put a 'do not fly with' advisory on the Tiger Airways.
In short, fly with Tiger Airways if you must but look for better value for money alternatives.
Henk Luf
Travelwise
---
more in Travel
LONDON TO PARIS IN JUST OVER TWO HOURS. 2nd October 2009
Yes, for those of you wish to have a real train experience, I think a trip on Eurostar from London to Paris or from London to Brussels might be one that would put a whole new light on one's opinion of what train travel should be like instead of what it is today in some countries.
SYDNEY. The Good, The Bad and The Ugly. 25 September 2009
Sydney has been one of Australia's main international destinations for visitors from other countries and while other Australian cities are now beginning to make an impact, Sydney is likely to remain Australia's main gateway for some years to come.
SINGAPORE 8 September 2009
Singapore is one of those places that most people in transit to other destinations in Europe would have visited at one time or another. I am of the view though that Singapore represents much more than just the transit lounge at Chang Airport and that this small country is well worth a visit.
World's tallest monoliths in Jaintia Hills, India
The cluster of monoliths in Jaintia Hills, Meghalaya is a testimony of Jaintia rulers' strength. It's an amazing site as the monolith is sure to kindle your thought of man's greatest idea and knowledge, Saidul Khan reports.