World's tallest monoliths in Jaintia Hills, India
Monolith is a symbol of remembrance in the Jaintia Hills. The cluster of monoliths erected to mark the reigns of the erstwhile Jaintia King is a significant event in the history of Meghalaya. This cluster of Monoliths are found in Nartiang, a village about 22 km from Jowai, the district headquarter of Jaintia Hills, about 60 km from Shillong.
Jaintia's is a tribe in Meghalaya who predominates the Jaintia Hills District.
The site has been declared of national importance under the Ancient Monument and Archaeological Sites and Remains Act 1958 (24 of 1958).
The site can be literally called a garden of monoliths. These monoliths cover a wide complex of about 100 m in diameter. The menhirs are locally known as Ki Moo Shynrang, and dolmens are known as Ki Moo Kynthai. Moo Iong Syiem, the tallest and biggest of the monoliths, is about 8 m height, 2 m breadth and 0.46 m thickness. It was erected by U mar Phalyngki, a trusted lieutenant of the Jaintia kings. The followers of the erstwhile Jaintia Kings U Marphalangki and U Luh Lyngshkor Lamare erected the other monoliths in the early 17th century.
In ancient times Nartiang used to be the summer capital of the Jaintia rulers, who spent about six months here. Some scholars say that these monoliths were erected in memory of the establishment of the market from Raliang to Nartiang.
Whatever the history be the site is splendid. It's an example of man's perfect imagination to make things look different and remarkable. Anybody visiting this site will be bowled. Alaister, a tourist from Boston says, "It's an amazing location. Man can really do wonderful things".
Arshad Alam, a tourist from Rajasthan said, "This is an undiscovered tourist destination. It should be publicized that the world's tallest monoliths is located here in Nartiang. India should be proud of it".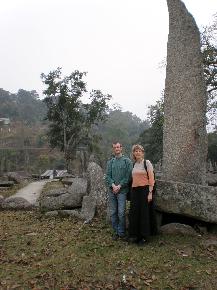 Tourist pose for a picture at the World\'s largest monolith
Going down to learn more about the history of this site it was found that on one rainy afternoon U Luh Lyngshkor, Jaintia ruler went to an old woman's hut at Raliang, a village near Nartiang seeking for a 'Knub' (a bamboo cape used by the locals to protect themselves from rain and it is hung from the head and runs down the back). But the woman declined Luh's request by insisting that he being a well-built man should use the giant stone slab at the market in Raliang to shelter himself.
On hearing this, Luh went to the market and used the giant stone slab for his shelter from the rain. Luh carried the slab till he reached Nartiang where he kept the giant stone slab and this event marked the shifting of the market from Raliang to Nartiang.
Since then the market at Raliang ceased to exist. Nartiang market place is located to the north of Nartiang Monoliths. Local religious pujas are held at Law Mulong, i.e. this site, which is locally called by this name.
It's a majestic site, which need an immediate attention. The cluster of monoliths is surely attracting tourist. But care and protection is must to preserve this cluster of monoliths for posterity.
---
more in Travel
Last Chance to See - natural wonders that might not be around forever...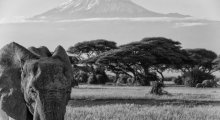 It's a heartbreaking fact that many of the planet's most beautiful natural habitats are threatened by human activity. Many of them face complete annihilation and may well not be around for our grandchildren to enjoy. Here are some of the top spots to enjoy (responsibly!) while you still have the chance.
7 Destinations in the World to See the Best Street Art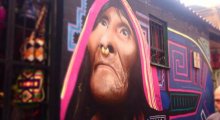 Bogota is one of the best destinations in the world to see street art. There is even a free street art walking tour in the city which attracts dozens of people every single day. The street art is colorful, enormous and super symbolic and meaningful. The free walking tour provides the much needed explanations to decipher the various works.
Bored at the airport? 5 fun things to do while waiting for the plane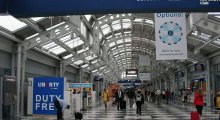 I'm a frequent traveller, and more often than I'd like to admit, I've been travelling with cheap airlines. It isn't bad all by itself. However, if it's not a direct flight, it can often mean that you need to stay at the airport the entire night.
Norwegian to offer $65 transatlantic fares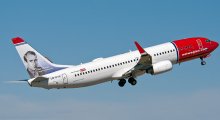 Low cost airline Norwegian is planning to start offering transatlantic flights with ticket prices starting at just $65 one way.
Risky behaviour on holiday - 44% of Brits have put themselves in potentially dangerous situations
New research suggests that many people have put themselves on potentially dangerous situations when on holiday, behaving differently than they would do at home.
Thinking of going to a holiday? Then please don't be a moron!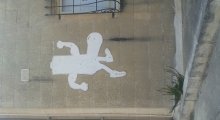 Many of us like to travel around the world whenever we can do it - meaning, whenever we have enough time, and money, to do that. Being on a holiday should be fun, and obviously, you should enjoy it.
How to Stay Safe While Travelling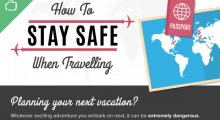 This infographic was brought to you by Baltictravelcompany.com....
Travelling To The PGA Championships 2015: Top Tips To Help You Get The Most Out Of Your Golf Holiday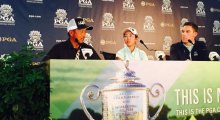 As one of only four golf majors each year, the PGA Championship is a very prestigious event indeed. If you are lucky enough to be heading to Whistling Straits this year there are a few handy tips you can keep in mind in order to get the most from the experience.
Tours to Go: Last Minute Hot Tour Deals in Australia Now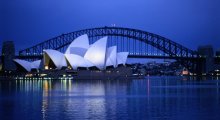 Have you ever thought about visiting Australia? I have a few friends who have taken a work & travel vacation in Aussieland, spending their work time in vegetable and fruit farms, moving furniture, doing the work of an administrator or cleaner at local B&B's. Whatever they have found, they have made it work.
Something a bit different in London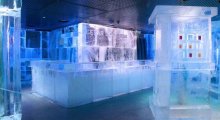 Many people will make their way to the capital for parties and nights out. There are so many options of things to do and people are always looking for the unusual. While ideas such as the London Eye are now well known, there are still a few gems to explore.