Mueller reportedly obtained the first sealed indictment on Friday

Robert Mueller, the special counsel overseeing the Russia investigation, reportedly filed the first criminal charges on Friday, according to CNN. The charges are part of the inquiry into Russia's interference during the 2016 presidential election.
It's currently not known who has been charged exactly or whether there are one or multiple people in the indictment, but according to CNN first arrest could be made on Monday.
When talking about the sealed indictment, a former Justice Department spokesman Matthew Miller said that "No one outside of the Justice Department or the court - including grand jurors, court reporters and such - should know, with the possible exception of the defendant's attorney, who might have been briefed to arrange surrender."
Trump has previously said
about the Russia probe that instead of his team, Hillary Clinton should be the real focus of the probe. And that the investigation into his ties to Russia is nothing but a witch hunt. He has always denied any collaboration with Russia during the election, independent of some of the correspondents he and his team has had with Moscow's people as have been revealed by various news sources.
---
more in Breaking News
Another whackjob set to prove the earth is flat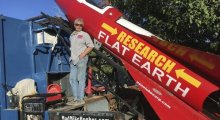 The number of people who haven't heard about the theory that the earth is flat is decreasing every day, since the controversial topic has been in the news quite a bit lately. Around two months ago...
Spain ready to consider giving Catalonia greater fiscal autonomy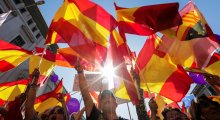 In hopes to soften the crises brought on by the referendum in Catalonia last month that culminated in unilateral declaration of independence (for a moment), Spain is now ready to discuss giving Catalonia greater fiscal autonomy.
End of days coming this weekend, numerologists claim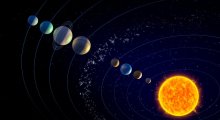 If the news about the upcoming doomsdays would have been true, the world would have ended at least a dozen of times already. But last I checked, we're still here. However, that doesn't mean that the conspiracy theorists couldn't come up with dozens of new dates and the latest "prediction" has been made for this weekend.
Virginia's famous "middle-finger-cyclist" just got fired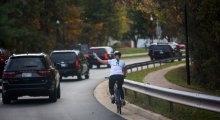 On October 28, Juli Briskman, a Virginia cyclist, was photographed showing her middle finger at Trump's motorcade as it drove past her. Now she's been fired by her company, Akima L.L.C.
Utah nurse gets $500 000 settlement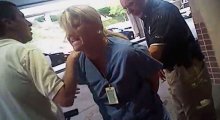 Utah nurse, Alex Wubble, has reached a settlement worth half a million dollars after being forcibly arrested for refusing to let an officer draw blood from an unconscious patient. The incident was videotaped and highly publicized.